Last week's The Lying Game ended with an ab-tastic Ethan Whitehorse getting arrested by the FBI. In "Not Guilty as Charged," Ethan was brought back to Phoenix, booked on murder charges and had a pretty interesting arraignment.
My only gripe about an otherwise flawless episode is the fact that something about the law stuff seemed a bit off. Now I don't know all that much about thise area, but if the FBI arrested Ethan, wouldn't he have been booked in a Federal prison? Also, how did a local DA take over the case? Lastly, if Alec recused himself, why was he at the arraignment? Okay, onto the good!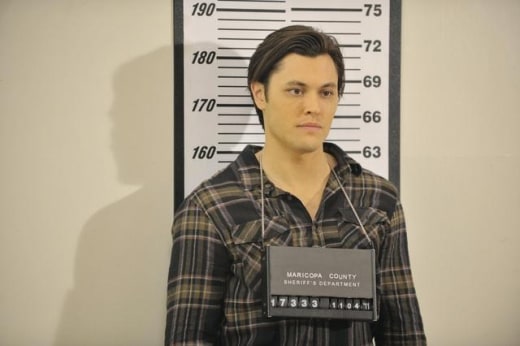 You all know I was a bit bored with the time at the ranch, but Ben Whitehorse left us with a few gems during his conversation with Thayer. First of all, he obviously witnessed the taboo romantic moment between Ethan and Sutton. No matter what Ethan said to fake Emma (aka Sutton), there isn't "nothing" going on.
Family drama combined with running from the police doesn't serve as an aphrodisiac. I don't care how many fireplaces there are and how in touch with nature you're feeling, there was no need for that romance. Also considering how irritated Ethan is by Sutton, I'm super surprised how quickly he cheated.
I read in a lot of comments that people feel like although Emma is definitely nicer, she is not all that innocent. True, she did steal her sister's boyfriend. That's a fact. So, yes, both sisters do have their faults. However, after that move Sutton pulled tonight, telling Ethan that Emma slept with Thayer and telling Emma that she slept with Ethan, that was downright bitchy! Team Emma, people.
I think we can all agree that Sutton has a vindictive agenda. Will Emma and Ethan be able to get passed it? Another thing: will Mads be able to forgive Sutton? How will Mads and Thayer handle the suspicions about Alec? Thayer seems a bit stronger, but Mads is still in denial about her father's shadiness.
One person who is obviously not afraid to call him on it is Rebecca. I've said it before and I'll say it again, I love Charisma Carpenter on this show! Okay, so theory time: did Rebecca follow Alec that night and snap that photo? Is that the leverage she has in order to lock him down as a husband?
The note was similar to the note that was sent to Emma. But what about the text? That was very Pretty Little Liars esque. Then again, these shows were created by the same writer. Rebecca seemed very self assured when she was comforting Emma. Obviously she is pretty confident in whatever she is crafting up. 
What's your theory? Will we ever hear about Annie Hobbs again? What will happen with Alec and Derek's murder case?