The episode aired almost 48 hours ago, but we'll give you one more SPOILER ALERT: Stop reading now if you still do not know the identity of A on Pretty Little Liars...
... okay? All good? Read on to actually hear from the actress behind the stalker.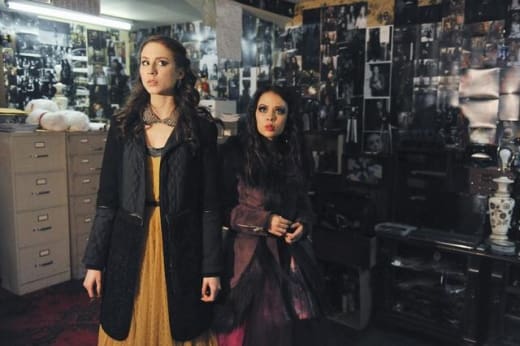 On Monday's PLL season finale, the world finally learned what Janel Parrish found out a few weeks ago: her character of Mona is, indeed, A. But is she working alone? What's up with Team A?
The actress could only say so much about Pretty Little Liars season 3 - aside from confirming she will be listed as a series regular - but she did speak to reporters on a conference call yesterday about...
... the season three premiere: "I do know that Season 3 the premiere will take place six months after Maya's body was found, so it's the second anniversary of Alison's death. Mona will have been in the Radley Sanatorium for the last six months. She'll get a mysterious visitor. You'll find out more about that and there will just be more answers and connecting the dots."
... Mona's friendship with Hanna: "It's safe to say their friendship is ruined. I kind of hope to see a showdown. I think that would be awesome. If Mona and Hanna meet face-to-face, I think it would be a very interesting interaction so I'm hoping Marlene gives that to me. It would be fun.
... clue from earlier this season that Mona was A: "Definitely the scenes where I'm helping Emily hack into the vice principal's system to find out that he was bribed definitely shows that Mona had some technical skills that people didn't know about. It also shows that she has a little bit of a devious side."
... Team A: You will definitely learn about that in Season 3. I don't know exactly when."
... taking a new approach to Mona: It's really just letting go of everything that I've created for this character for two years. Everything that I've built upon for this character doesn't really matter anymore. Unless there are flashbacks of me as that Mona, I'm now creating a new character. It's really exciting and I'm excited to see where it goes."
Matt Richenthal is the Editor in Chief of TV Fanatic. Follow him on Twitter and on Google+.