Finally! This week we took a much anticipated return to the Danger Zone. Even if Archer couldn't get Commander Drake (Bryan Cranston) to say it.
Unfortunately, that return to the Zone of Danger also means coming to an end of our third season. Yes, this week's "Space Race" is part one of the two-part season finale.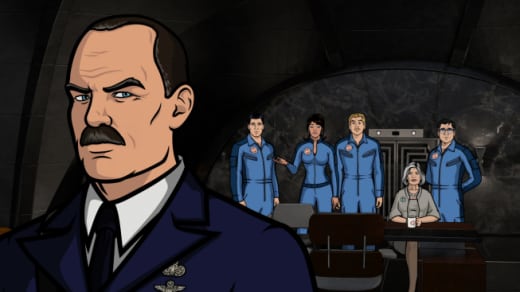 And it definitely served as a part one because it basically was an intro to get our ISIS agents fit as lowly-trained astronauts during a three-day crash course. You know, once Archer was able to finish his six enema special thanks to Krieger and joining them a half day late.
Once the gang finally set off for its adventure to Horizon things became a standard Archer vacation. Even in space, Pam and Cheryl managed to sneak on as space stowaways while Malory somehow negotiated her way on board.  
After the ISIS gang managed to finally board Horizon - despite incompetence and space sickness - the hilarious fight against the space pirates began. It may have only been the last two minutes, but once Archer banged his way out of the brig, thinks got good. He said, not being facetious.
Learning the mutintineers were actually led by Drake and it was all a plot to repopulate Mars? Slightly unpredictable... unless you paid close attention to the beginning. Either way, I can't wait for next week's season finale.
Some of the highlights for me this week?
Seeing Lana actually having a weakness! Even if it does take the obscure trip on the Vomit Comit and artificial gravity to reveal it.
Space. The underfinanced

boondocks

boondoggle.
15 years of boarding school eh Archer? That's how he got so good at Lacrosse.
Man phase two sure makes airplane takeoff seem easy. I'll never complain again.
Wait, seriously, no cantinas on Horizon? I'd be chugging those bags of rubbing alcohol with Malory.
Cheryl totally could have rocked that dress at the Boarding party.
Obscure reference goes to Cheryl's sixteenth century Grace O'Malley.
R2 Double D2? Nice! Why didn't I think of that last week.
Zero gravity space sex. Luckily Pam's MOAB made a quickie possible. Do I want to know what it stands for?
Welcome to the Danger Zone.
Eric Hochberger is the programmer of TV Fanatic, so please forgive his mediocre writing. His programming is far better. Follow him on Twitter and/or email him. Just don't request threaded comments. They're coming.