"At the Movies" opened like so many other episodes of Californication, with Hank and Charlie starting their morning together.  As the episode unfolded, however, we saw that such good mornings may be no more as the bromance was dealt a knock out blow thanks to Charlie's decision to sign Tyler. I guess that is what happens when a guy who normally thinks with his penis listens to his gut. Lizzie was his very own Yoko Porno this week as she helped Charlie make the decision that ultimately cost him his greatest friend. (I did like the rubber ducky in sunglasses though bobbing along next to Charlie in his own shades.)
Just when I was starting to like Tyler he went and showed his immaturity by making Charlie jump through hoops. While I loved the cameo by Brian Thompson, the Night Slasher from 1986's Cobra, did those guys he was hanging with really seem like they would be his group of friends let alone the kind of guys who would stand watch while their buddy slapped the taste out of a guy's mouth with his baby making parts?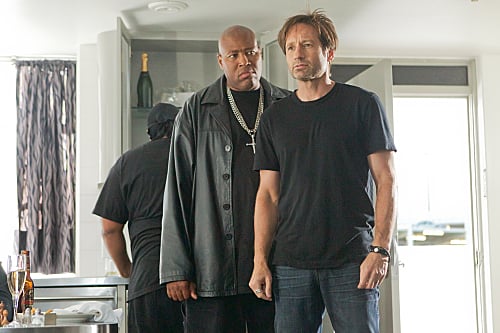 Samurai's big film kicked off this week and I wish butchering one of cinema's greatest lines was the only crime committed by the Malibu Cop. While I understood his erratic behavior when it came to Kali, going all King of Pop and dangling Hank off the balcony because of his dalliance with the movie's leading lady and her pound puppies seemed a bit dramatic.  Even if it was to only save face, to then follow it up with the gut shot just didn't rest well with me. Hank is off the picture, but there's no chance that is the last we have seen of Rza's character. With the Kali storyline still unresolved there will hopefully be ample chances for him to once again bring da ruckus. 
After the laughter of last week though came the tears of disappointment that even a reunion of Karen, Becca and Hank couldn't wash away. I very much hope Becca has a larger role in the remaining episodes because I found her limited screen time tonight to be her worst to date.  Madeleine Martin is so capable and deserves so much more for all her time on the show and for the influence her character has on her protagonist papa.