"A One Story Town" is probably one of the best and worst titles for an episode of Cougar Town. At its worst, the show sometimes relegates character to drinking wine and living and dying based on whatever silly scheme they've come up with that week. But those moments are few and far behind.
What actually happens more often than not every week is that this sitcom continually tries to assemble comedy that is infused with layers of characterization in a way that rivals hour-long, character-driven dramas.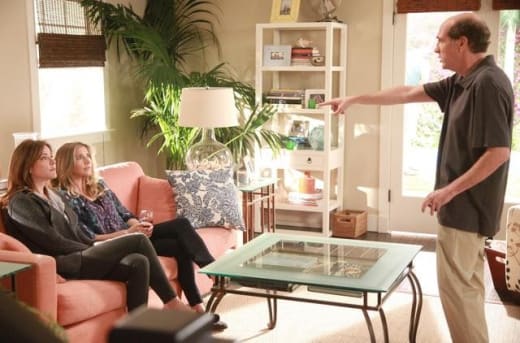 Sure, we could take the entire episode at face value and still get plenty of comedy out of it. But when we go just beneath the surface and look at how our favorite cul-de-sac fits together and how each individual ticks as a person... there's a lot going on, and tonight's episode was all about Bobby Cobb.
Bobby is funny, there's absolutely no question about it. Not many people can make throwing a penny in a can one of the funniest gags ever, while also reminding us of the age-old rule of always breaking up a fight without your shirt. But he's also a man who messed up his marriage, lives on a boat and drives a golf cart. While Jules is beginning to move on with her life with Grayson, Bobby is still mostly in the same position he was when we first met him.
Bobby knows his current spot in life is due to his own actions, and it might be part of the reason why he hasn't quite begun to move forward, but at least now we get to watch him begin to take those steps with Angie.
Watching Bobby on the date with Angie peels back a few more of his layers as well. I think a lot of us assumed Bobby has enough charisma and charm to pave over whatever insecurities he might have. But that's how he acts around friends and family, and what we've heard about him when he was only interested in having sex with women. Now Bobby wants a relationship, and all of his insecurities that give him comedic strength now serve as a potential roadblock.
But this wouldn't be a Disney-owned property without a little magic, and even though Bobby comes off as having quite possible one of the worst dates to ever happen he still manages to kiss, and get, the girl.
Other thoughts:
And here I thought only Once Upon A Time gets to play in the House of Mouse playground.
Scrubs! Sort of.
My Ellie crush continues on unabated with "call her a chunky bitch!" (See more of my favorite Ellie quotes at our Cougar Town quotes page!)
I like that the show semi-acknowledged what Tom could potentially do to cul-de-sac cohesiveness.
What did you think of tonight's episode and its mini Scrubs reunion?