That's one way of getting the elephant out of the room.
"Something Big" pushed our favorite narcissistic couple forward by giving them both what they wanted: for Grayson, children; for Jules, not wanting to be knocked up.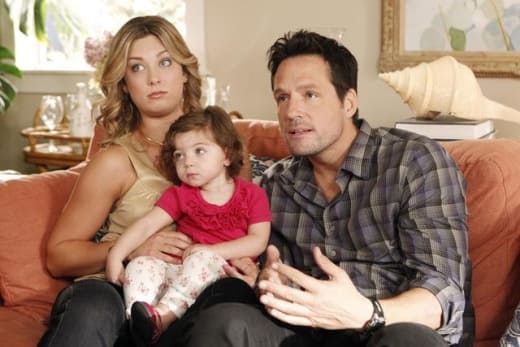 Sure, we've know for awhile now that one of Grayson's many one night stands (happy 1,000th customer Jules!) would come back to haunt him, but there's one thing that's almost always missing in spoilers: context. How would Jules react? How would Grayson react? Would their relationship survive? Would they still be accepted within the ranks of the cul-de-sac crew? All right, so maybe that last question is easily answerable.
When all is said and done, little adorable Tampa actually brings Jules and Grayson closer together because it solves a few of their problems. Jules, while willing to go on any adventure with Grayson, is ready to move on from her child-rearing years while Grayson is ready to start. Which, as I said above, gives them both what they want. But not before Jules put in place a Big Carl and Ellie therapy session.
"Big" pulled another relationship from its past playbook with Laurie and Travis. The two haven't really spent much time together since Laurie played with his heart to get him back home, and now we know why: he's still upset over it. And who can blame him? While she had his best interest in mind, it's no fun to get led on and then crushed. Although even with all of that the spark between Laurie and Travis is still alive and as palpable as ever.
Overall, "Something Big" was another solid episode of Cougar Town. I just wish more of you were watching.
Other thoughts:
Holly brought some of her own charm and fond memories of a past Grayson we knew for a very short time. Remember when Jules and Grayson were paper buddies and he left his porch light on for her? Ah, remember when this show wasn't working? My how times have changed.
I'm disappointed Jennifer Anniston couldn't come back for another therapy session, but Jules' couples' therapist is even better.
As you might have heard, I have the biggest crush on everything Ellie says: My favorite this week? "I hope a shark eats your face." (Speaking of, head on over to our Cougar Town quotes page for more of my favorites)
I really want a churro now.