The Big Bang Theory Review: Whipped

Carla Day at .
[whip cracks]

Aww ... The Big Bang Theory boys are growing up. Well, not really, but they are all in relationships now, except for poor Raj. A girlfriend is supposed to mean sacrifices, but that definitely doesn't lead to the same thing for all of our geeks.
Leonard and Penny's "beta test" relationship has been going well. This time around they are open with each other and truly understanding of each other. Her disinterest in the guy weekend made sense. She's been there and seen it. Leonard lucked out this time.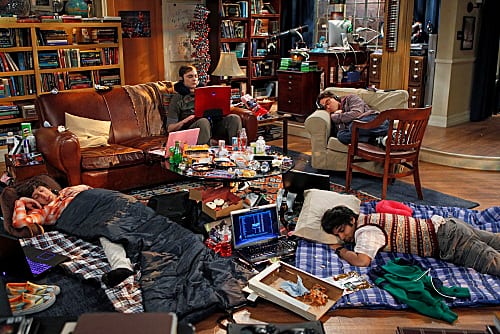 Sheldon and Howard weren't nearly as fortunate, though.
Howard was trapped by his delayed answer to Bernadette. She got a new laptop, a game and some precious time with the guys! Hey, Penny has joined them before, why not Bernadette? Umm, wow, Bernie!
Bernadette and her sounds effects were hilarious, but were also enough to drive anyone crazy. I'm surprised that Sheldon didn't absolutely lose it. Then again, he is the one that ditched his girlfriend to play video games. I mean, come on, she even followed the requirements of the Relationship Agreement. Harsh, Sheldon!
Sheldon's ignorance of sarcasm worked in his favor this time. He used Amy's words against her and ditched her aunt's party to join the guys. And, even after Amy's rampage, he was saved by Raj. I hope that Amy brings this up in the future to make Sheldon do something she wants!
But the moment of the weekend came unexpectedly from Raj. He finally lost it. His outburst has been a long time coming. This was his moment!
Raj: But e-excuse me, I have something to say. None of you may realize it, but I was very much looking forward to this weekend. It was gonna be like the old days -- the four of us hanging out, playing video games, before you guys all got girlfriends. Do you have any idea what its like to the be the only one without a girlfriend? Even if I get one someday, I'll still be the guy who got a girl after Sheldon Cooper! | permalink
You have to feel for the guy. He has been left behind by his friends figuratively. Is it possible, this was the psychological break he needed to get over his fear of women? I'd love to see that this season. Raj dating would be comedic gold! Much better than even the awkward Sheldon.
The Big Bang Theory has done a perfect job this season incorporating phone apps into its episodes and the whip app was no exception. Howard may have introduced them to the app, but Sheldon definitely got the hang of using it against him.
Which was your favorite use of the app? In the comic store when Sheldon didn't understand its meaning? When Howard told the guys Bernadette would be joining them? When Howard agreed to dress his avatar in a purple robe? When Sheldon agrees to go to Science Center with Amy? Or, when Howard's mother showed up to bring him home?
Check out some of those funny moments and others from "The Weekend Vortex" in our section of The Big Bang Theory quotes.

Carla Day is a staff writer for TV Fanatic. Follow her on Twitter and on Google+.