While casino night may have been a feature of The Secret Circle this week, I'd say it was anything but "Lucky." This was an odd episode. While the previews made it seem like it would be full of excitement, it kind of felt like watching Jason Voorhees chase down his 50th victim, just lumbering along at a steady pace. I wanted things to happen faster and I wanted more to happen - period.
So what did we get? A lot more of John and Cassie. While the idea of was-he-good-or-was-he-bad got played out again, by the end it was quite clear he really was back in Chance Harbor to set things right and to look out for his daughter.
For some reason, I thought he was still keeping his presence low key, but showing up at casino night and slamming Dawn against a locker laid that to rest. Now that she and Ethan know he's returned, maybe the adults will get a little more play time.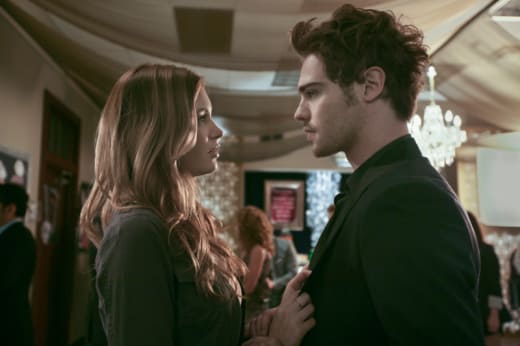 I thought it was pretty strange that Ethan, who hated John so much he tried to kill him in the high school parking lot, would work so diligently to keep Cassie and Adam together. Since things didn't work out as planned with Amelia, he was making it his mission that they would go right for his son and his love, as it was written in the stars.
Imagine his surprise when John told him even Amelia knew that what was in the stars actually pointed to a curse should they ever get together. That would be one good reason to choose John over Ethan!
Alas, it was too late for the two talking papas to make a difference. Their spawn had just done the dirty deed. If John was right, we get to look forward to things spiraling out of control from this act. Sounds naughty and fun, doesn't it? The biggest problem with the whole situation was John's bad news to Cassie. She cannot use her magic, because any magic would drag her deeper into the dark side. What will that mean for the circle?
The other big story of the night was Faye discovering Eva not wearing her "ex" garb in the appropriate fashion. When she finally woke up, she seemed like she was about 14. It turned out that mentally that was about right. Of course, he dug into Faye while Eva was "out." There wasn't much of a contest, as I'm sure Faye would be happy to point out. I was rather surprised to find out Lee had not been yanking Faye's chain. He was really into her. Sadly, Eva was really into Lee, too, to the point of sucking the life out of him to ensure he remained all hers.
What was that? Did she turn him into a raisin person?
Normally Faye would turn to her circle to help under those circumstances. I don't believe for a second she will let Eva take possession of Lee. But Cassie can't use her magic, and her strength would make a huge difference. Or all the difference. Can the rest of them do anything without her powers? I hope so. Faye and Lee were smokin' hot at Casino night and we need more of that.
If Eva did turn Lee into a raisin, can he live, or is he gone for good?
Other bits:
Ethan was the bad guy. He gave mortal Eben powers years ago - on the boat. Sweet faced Ethan. Tsk tsk.
Diana met a handsome Aussie passing through town, had a great night and he promised to return. Do you think he's too good to be true?
Melissa has become the voice of reason after saving herself from Lee's dorked out friend Callum. I'm really proud of her.
What's the hold up now? Why isn't Jane back yet? I can't even keep track any more.
Was anyone else cringing when Cassie and Adam decided to get nekkid in front of the open windows? Jake peers into them all the time! Geez.
Do we really know Jake's agenda yet? If you do, can you tell me?
Carissa Pavlica is the managing editor and a staff writer and critic for TV Fanatic. She's a member of the Critic's Choice Association, enjoys mentoring writers, cats, and passionately discussing the nuances of television and film. Follow her on Twitter and email her here at TV Fanatic.