Life is getting back to normal at Fort Marshall, as everyone dealt with issues created created either before they left or while they were away on "After Action Report."
She just crept up on me
If Jackie turned to popping pills when Kevin said no to a weekend in Savannah, how many do you think she took when he was away in Africa? I'm surprised she didn't overdose. It was nice to learn she might just be a normal Army wife under that tough exterior after all.
Don't be shocked, but I find I actually feel for Jackie. Yes, wanting to strangle her earlier in the season to caring about her well-being is a pretty big step. I can't even figure out how it happened, she just slowly crept up on me and I don't dislike her any longer. What are you guys feeling about her now? That's some darn good writing, in my opinion. The way Kevin used her as a personal assistant and barely recognized her otherwise definitely helped the cause.
One thing is certain, the Clarks are an enigma. They definitely keep me guessing from one moment to the next.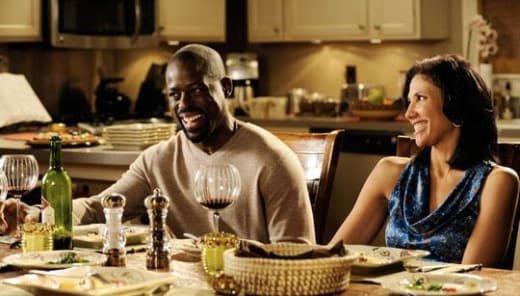 Don't ask don't tell
It was an interesting route to take for the show to examine the rescinding of "Don't Ask Don't Tell" from the part of females versus males. I've never heard of any issues with gay females in the military, but the show is about Army wives so I can live with that decision.
All of that said, with as cautious as Nicole was about her situation in the military, to see her and Charlie walking out of the Burtons holding hands and kissing in the street seemed very quick. While she just had a near death experience and they did quickly kiss hello when the troops got home, it was hard to believe she would just completely throw caution to the wind like that.
Were you as surprised as I was at General Clark's reaction to the "news" that she was gay? Like I said, an enigma. He didn't react as I expected, and that kept me guessing. I'm definitely enjoying that aspect of the Clarks' intersection with the lives of soldiers on Fort Marshall.
Why does it have to start so hostile?
We all knew Tanya was going to get her groove on with Hanson, but why did he have to be such an ass to start? Sometimes the typical romantic novel beginning to a romance is more annoying than it is appealing, and Hanson treating Tanya like crap didn't exactly make me want to root for their future together. Do you still like the idea of them together?
PTSD
Frank was having a really hard time letting go of the fact he had to leave a female civilian and a building full of orphans behind during their mission to Africa. Who could blame him? With his own wife and daughter at home, the fate of those they abandoned were staring at him from every angle. He asked Nicole to keep him updated if she heard any news, but that's not how he discovered what became of them.
I had to wonder if the 32nd Airborne would have heard before the news organizations, but in this world of immediate coverage it's entirely possible they wouldn't have. Kevin was getting accolades for his triumphant mission. Will they continue now that Rachel, the woman from the orphanage, and some of the children escaped and told the tale of the brigade leaving them to fend for themselves? I mentioned in my Army Wives review last week that following those orders and calling it successful would be difficult to do.
Imagine what it would sound like to us, regular civilians, to hear that's what the military calls a success. Frankly, we wouldn't be on the same page as the military. Not to say their decision was wrong, but we don't understand what it's like to play the role of the world's police. That's why it's such an impossible one to win. Career wise, it would seem General Clark will pay dearly, and emotionally Frank may need some help reconciling what he did. I've always wondered about situations such as those, so I'm looking forward to seeing it play out.
Did this episode feel more like the old Army Wives to you? It did to me, and it was a welcome relief. There still isn't a lot of focus on our core friendships, but at least the heart of the stories are there and true to what we have come to expect. Don't forget to check out the Army Wives quotes and post your own opinions on this week's episode in the comments!
Carissa Pavlica is the managing editor and a staff writer and critic for TV Fanatic. She's a member of the Critic's Choice Association, enjoys mentoring writers, cats, and passionately discussing the nuances of television and film. Follow her on Twitter and email her here at TV Fanatic.