The down and out life of Pete Campbell was interesting to witness during "Signal 30," especially when comparing it to how content Don Draper was at this given point in time. It is best summed up by the words of Ben Hargrove...
It might have been living in the country that was making him cry. It was killing him with its silence, and loneliness, making everything ordinary too beautiful to bear.
I'm not sure which combination of living in the suburbs, growing tired of his wife, an increased work load or simply wanting to be like the ad men he has watched over the years forced Pete into this type of behavior... but I'm glad it has happened.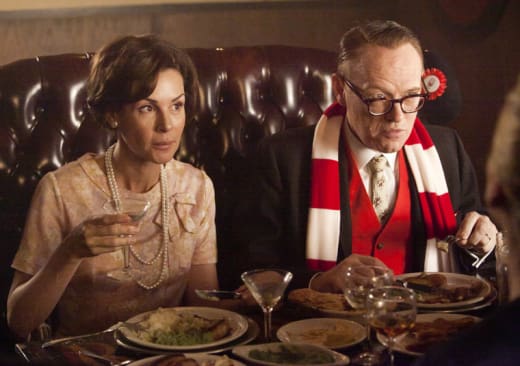 Without his downward spiral, we never would have been able to watch Lane knock him the heck out. How great was that fight scene in the conference room? Between Roger aggressively wanting to see the fight and later claiming he had money on Lane, Don quietly closing the blinds and Pete actually hitting the floor, it was the most entertaining scene of the episode.
It was Pete's moment of shame and defense in the cab that had me most intrigued, though. He was angry at Don, or was he embarrassed? He was just having himself a good time at what Don calls a "whore house." Mr. Draper of all people should have no right to look down on him, Pete thought.
Unlike the audience, which has known of Pete's unhappiness for a while, Don though Pete was quite happy with Trudy, which is why he was giving him stern looks in the cab. Don gives Pete advice – don't ruin a good thing – which is something Don thinks that he has.
That question of "is cheating just a part of Don, or was it Betty who forced him to it?" was answered by the man himself. He claimed that if he had met Megan first things would have been very different, but do we believe him? He's off to a very good start, and I want to buy that he is not going to cheat on her, but only time will tell. Can a tiger change his stripes?
Meanwhile, Lane was starting to feel as worthless at Sterling Cooper Draper Pryce as Bert Cooper actually is. After failing to succeed in his dinner with the Jaguar guy, he found out that Pete and the boys ruined everything by taking the man to the whore house. His frustrations led to the beat down of Pete Campbell, but taking it all out with his fists didn't help the cause.
When given a bucket of ice by Joanie, and being told that he was indeed important to the company, Lane went in for a big smooch on Joan. Way to go, Lane. Get yours, my man. Sadly for him, it was just another rejection.  ortunately, though, Joan was great in acting like nothing even happened. I'm sure he was still humiliated, but a move like that could have made things a lot worse for Lane.
"Signal 30" also gave us a deeper look into Ken Cosgrove's short story writing, a dinner party in which Megan hilariously blurted out Ken's wife's name, Ryan from Suburgatory stealing Pete's prospective mistress right out from under him and Lane Pryce pretending to love him some football at a pub.
What did you all think of the episode? Did you like that the hour centered mostly on Pete? Can you blame Lane for knocking Campbell to the ground? Has Don changed? And wouldn't you like to get your hands on a short story by Ben Hargrove?
Dan Forcella is a TV Fanatic Staff Writer. Follow him on Twitter.