The good news is that Don didn't actually cheat on Megan in "Mystery Date." The bad news is that he was so sick that he hallucinated, and said hallucination had him cheating on Megan with a former lover and then strangling her to death.
I'm definitely not one to dissect what somebody's extreme fever hallucinations say about their true desires, so I will discuss Don's affinity to cheat without bringing his faux experience with Andrea into the conversation.
That is basically what the entirety of Don's story was about on this week's Mad Men. Is Don going to act differently now that he's married to Megan? While with Betty, the man was a serial cheater, so when Megan and Don ran into a former partner of his, she obviously got upset.
She's worried that it wasn't Betty that drove him to cheating, but rather that it is just a part of who he is. Like the past couple of episodes, I liked the way that Megan dealt with the difficult situation. She faced it head on, bringing the conflict to Don's attention and making him aware of the way she felt.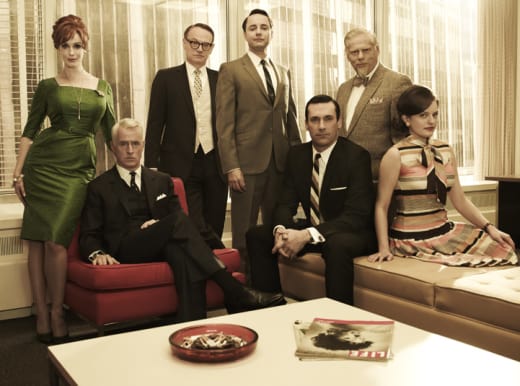 He seemed to react positively, both to her being his wife in general, and Megan stepping up to the challenge of a former lover in that moment specifically, as he pushed Andrea away over and over again. What it meant that he ended up cheating on her in his hallucination, and then killed the woman in a fit of rage, I will not get into, but it is certainly an interesting topic moving forward.
Elsewhere, Joan was all excited for the return of Greg, but was only let down just like the audience every time Greg comes on screen. The guy is a jerk. We've always known that, but Joanie finally realized it as she told him to never come back if he left for war voluntarily.
I loved that she mentioned the horrid things he did in the past, but I enjoyed the dinner when Joan found out even more.  Oh your husband is going back to war because he wants to.  Here's some loud accordion music in your face. It was very reminiscent of the break-up restaurant referenced in a recent Happy Endings episode.
Race continued to play a bigger role in "Mystery Date," as Peggy brought Dawn home for the night after Don's secretary was found sleeping in his office. I loved that these two hit it off, bonding over the fact that each was the only one of her kind at one point or another.
Peggy admits that she was definitely not in the same boat as Dawn, but she can kind of relate, because she was the only woman doing what she was doing early on.
The best moment, though, was when Peggy stared at her purse - the one fresh with just under $400 from Roger - and left it there with Dawn all night long. It didn't necessarily have anything to do with race either. It was about trust. Peggy doesn't know this person all that well.
Would you leave that much money laying around for an acquaintance to be able to walk off with? I don't care if they're black, white, blue, pink, or orange.
Also in the most recent installment of Mad Men's fifth season, Roger continued to struggle with the day-to-day of the Mohawk account, Michael absolutely murdered his ad pitch, and Sally Draper's reaction to Henry's mother's story about her father kicking her and saying "that's for nothing, so watch out," was absolutely hilarious.
Her facial expression and statement of "that's not very nice" had me in stitches.
It was a relatively slow and quiet edition of Mad Men until Don went on a Landry Clarkian killing spree. Well, yes that was only a hallucination, but it was still extremely exciting. The emotion that Jon Hamm released in that scene was astonishing. In fact, the ability he has to play someone who is sick is downright award worthy.
What did you all think of "Mystery Date?" Was it one of the better episodes this season? Are you already missing Fat Betty? Do you have an opinion on Don's hallucination? And how excited are you that Joan told Greg to hit the road?
Dan Forcella is a TV Fanatic Staff Writer. Follow him on Twitter.