With the first season halfway done, Scandal is proving why it deserves a spot in ABC's fall line-up. "Enemy of the State" had me on the edge of my seat from start to finish. And then I wished for a time machine so I could just go ahead and watch next week's episode right now because, people, I have questions.
Chiefly, what happened to Amanda Tanner?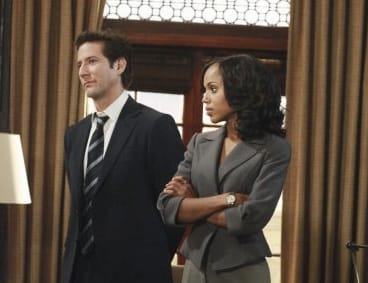 Did we really witness a Presidential hit on a mouthy mistress like we're being led to believe? Or was that kidnapping the result of the mysterious phone call Amanda placed wherein she declared that she was "out?"
It appears that the Amanda Tanner affair is a set-up designed to, well, I don't know what, exactly, this affair's supposed to do. Force the President to resign? Uncover a bigger scandal in Washington?
Seriously. There are so many questions lingering after this episode.
In light of there being so many questions on which we could speculate until next week, let's focus on what we did learn here because for every question this episode asked, it also answered one from a previous outing.
All of the members of Olivia's team have been rescued in some way. While I don't necessarily like that we learned about the team members' pasts through the investigation Cyrus launched, I do like that we got some background.
For instance, Stephen suffered a nervous breakdown at the height of his career and had to be hospitalized. Harrison met Olivia when she represented him pro bono. And? He's apparently very rich, which must be how he affords all of his suits and suspenders. Much of Huck's history has been redacted thanks to his former life as a CIA operative, but the investigators note they wouldn't want to come across him in an alley.
Abby was a victim of domestic abuse who met Olivia when Olivia helped her divorce and hide from her husband, and it was her story that tied into that of the procedural for the week. When they learned that the dictator's wife wasn't kidnapped but ran away from her husband, Abby felt compelled to help her and her children seek political asylum.
Quinn's history, however, is still a mystery. During the investigation, Cyrus and his team discovered that Quinn Perkins didn't seem to exist beyond just a few years ago. Quinn and Gideon also seemed to be hitting it off, as we saw them meet for drinks twice in an episode that could only have spanned two days. But then she lied to him and, as Harrison told her, she's not a very good liar. My bet is that lie comes back to bite her - or Olivia - right in the backside. (To read Harrison's exact words to Quinn, check out the Scandal quotes page.)
And speaking of history and character background, Cyrus Beene is gay. I can't say I saw that coming.
There are still some things about the show that I find to be a little clunky, namely the weekly cases that coincidentally tie in to one of the character's lives. When it was a story like the D.C. Madame and Stephen's history as a client it was a little less like having an anvil dropped on our heads compared to this week's story, which clearly served as a way to highlight Abby.
I feel like with the Amanda Tanner story heating up, there's less and less need for the weekly crisis that needs managing. Taking on the White House is crisis enough.
The closing scenes, however, were powerful. Watching Olivia ask for and receive the support of her team even "over the edge of the cliff" while simultaneously watching their case, unbeknownst to them, disappear was gripping and exciting and left me asking my empty living room what had just happened and cursing the DVR for not having more Scandal for me to watch.
What did you think of "Enemy of the State?" What questions do you most want answered? And who do you think is behind Amanda's disappearance?
Miranda Wicker is a Staff Writer for TV Fanatic. Follow her on Twitter.