Wow. I might need some help picking my jaw up off the floor after that episode of Scandal. Last week's installment gave us a little more character background, but this week's was all about developing the plot and identifying who's in charge. And I'll tell you right now, it's not the Leader of the Free World.
"Hell Hath No Fury" proved that the women of this show are the power players, even the guest stars, while asking a lot of questions at the same time.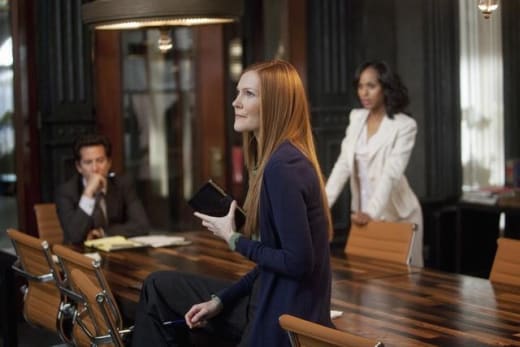 Because we're a little more familiar with the world of crisis management and the characters who make up this show, "Hell Hath No Fury," which focused on developing the plot and driving us toward the end of the first season, was the best so far.
Quinn and Huck's interactions provided lightness to a plot-heavy episode, and Harrison was there, as always, with his smooth talking. It felt like the show started to come together a bit and impressed me more than the previous two episodes.
Here, the team took on the case of a millionaire's son after the client begged Olivia for her help with his defense. While Olivia was able to uncover enough information to have the rape charge against the son dropped, she and her squad also uncovered information proving him guilty of another rape several years prior. After a little soul searching of her own, courtesy of the President's Chief of Staff, Olivia convinced the mother to turn her child in for the rape he believed he'd gotten away with.
In other women-in-power news, Amanda Tanner and the First Lady dropped a couple of bombshells, and I'm not entirely sure yet which was bigger.
First, Tanner's evidence against the President regarding their affair? The information she's not ready to share with Olivia yet? That'd be the baby she's carrying. Amanda Tanner is pregnant. When asked what her "endgame" is in all of this, Amanda inquired only for a meeting with good old Fitz, a meeting to which he at first agreed. That is, until an audiotape of one of his and Amanda's encounters is delivered to the office of his Chief of Staff, Cyrus Beene.
The other bomb? The First Lady knows about the President's affair with Olivia. She even went so far as to invite Olivia to a State Dinner thinking she and the President would have another tryst and he'd be able to sleep at night. (For the lines that gave the First Lady away, and a couple of fun exchanges between Huck and Quinn, visit our Scandal quotes page.)
Each of these story lines brings up questions about what Olivia is willing to reveal about herself as news of the President's affair comes to light and what the motives of other characters may be.
For instance, the millionaire's mother, accepting some of the responsibility for her son's playboy ways, did what she knew would benefit her son best in the long run, and in doing so, I believe provided a little more clarity for Olivia about her own situation. Olivia knows this is going to get ugly. Will she have the courage to do what must be done if it means she's revealed as one of the President's mistresses? Or will she become her own client?
Before hearing Amanda's news, Olivia vowed to go as far as she had to go to get Amanda the results she wants, whatever those results may be. It's clear Olivia still has feelings for the President. How does news of Amanda's baby change those feelings?
We know the First Lady knows about her husband's affair with Olivia, but it seems she may also know about Amanda Tanner. Did the First Lady send the audiotape to Cyrus? If so, what's her endgame in revealing to the President that she knows about his extramarital activities?

What did you think of this week's episode and the overall show so far? Whose bombshell from this episode shocked you the most?
Miranda Wicker is a Staff Writer for TV Fanatic. Follow her on Twitter.