The Big Bang Theory Review: Oh, Gosh, Golly, I Made a Boo-Boo

Carla Day at .
Wow! Wow! I have to say it one more time ... wow! "The Hawking Excitation" was an absolutely hilarious episode of The Big Bang Theory. There were non-stop laughs from beginning to end. Possibly, the best episode. Ever.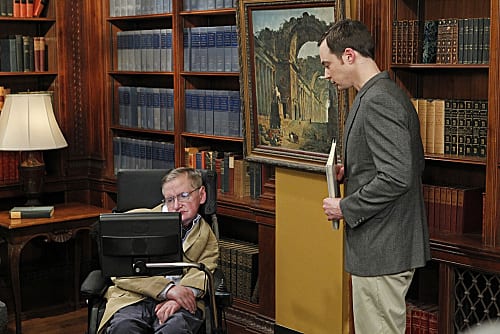 Throughout this season, there have been complaints that Sheldon has been over-the-top mean at times - even a bully in one episode. Finally the situation was turned around; Howard could pay back Sheldon for his demeaning attitude all these years.
The dream of many young boys is to be an astronaut and go into space, but not even Howard's upcoming trip earned him Sheldon's respect. Instead, it took the opportunity to meet Stephen Hawking for Sheldon to give Howard any consideration at all. Even then, Sheldon demeaned Howard's profession.
If you can't earn the respect of your friend professionally, you might as well take advantage of the situation, right? Howard's assigned tasks were varied, yet all hilarious. The best part about them was that no one other than Sheldon would have followed through with them. Sheldon may be incredibly intelligent, but he tends to misperceive comments and situations.
The funniest task was seeing Sheldon walk into the cafeteria in a French maid's costume. I'm not sure how Jim Parsons was able to pull that off with such seriousness. On the opposite side was Sheldon's inability to give Howard a true compliment. It was true to character, but sad to see.
Which of Sheldon's assigned tasks was your favorite? Vote in the poll and share your thoughts in the comments.
"The Hawking Excitation" was jam-packed with funny lines, here are a few of my favorites. Check out our The Big Bang Theory quotes section for many more.
Leonard: Raj, you're our group historian. Has Sheldon ever begged before?
Raj: Three times. He begged the Fox network not to cancel 'Firefly.' He begged the TNT network to cancel 'Babylon 5.' And when he got food poisoning at the Rose Bowl Parade, he begged a deity he doesn't believe in to end his life quickly. | permalink
Sheldon [in a French maid costume]: What are you all staring at? You ever seen a man try to get a meeting with Stephen Hawking before?" | permalink
Bernadette: Sheldon doesn't know when he's being mean because the part of his brain that should know is getting a wedgie from the rest of his brain | permalink
Stephen Hawking: You made an arithmetic mistake on page two. It was quite a boner.
Sheldon: No, no ... that can't be right. I-I don't make arithmetic mistakes.
Stephen Hawking: Are you saying I do?
Oh, no, no, no, of course not. It's just, I was thinking.... Oh, gosh, golly, I made a boo-boo and I gave it to Stephen Hawking.
Stephen Hawking: Great, another fainter. | permalink
Carla Day is a staff writer for TV Fanatic. Follow her on Twitter and on Google+.