Is it okay for me to start breathing again?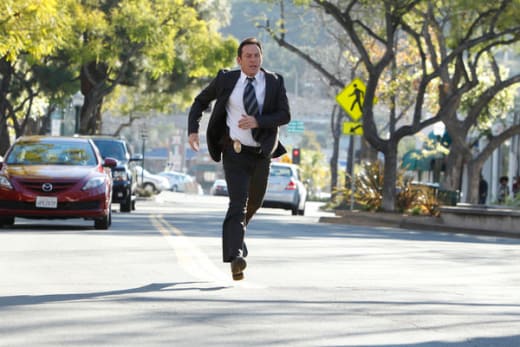 "Say Hello To My Little Friend" brought together plot pieces that have been hanging in the air for a while now, putting a name and face to "The Little Guy" and finally answering the question: What will Britten do when he wakes up in only one reality? Before getting to the episode I do have one general thought:
Jason Isaacs, this is your episode for an Emmy.
"Little Friend" is all about Britten trying to come to terms with Rex actually dying. He's locked in the red reality, and his mind refuses to transition back and forth. Dr. Lee's explanation certainly rang true, as falling is one of the ways we often wake up from dreams, and while I certainly had my doubts I did believe him.
Until I began thinking about his situation more, and I began to wonder if Britten's mind kept him locked in red for a reason. Did his mind lock him out of green after he saw Hawkins at the carnival? Did his mind force him to work out the details of the accident, and make him realize that it wasn't really an accident, but an attempt on him and his family's lives, in order to get back to green? Essentially using it as a reward?
The Hawkins hallucinations seem to at least correlate that. Who better than Britten, who knows his own strengths and weaknesses, to unlock the mystery in his mind? Britten goes to the ends of the Earth to figure out all of the details of his cases, and the crash at least gave him the ability to hold up detailed realities in his mind. So it's not a big leap to think that his mind can play tricks on him in order to get him to see things he's not seeing.
But Britten's discovery that the crash isn't an accident, but something deliberate ends up opening up even more questions. Bird is now the partnered with Hawkins at the red side, and while I doubt he's involved he was quickly shipped off after the accident. Vega is now extremely suspicious of Britten, and Britten's excuses no longer pull the wool over his eyes.
Perhaps the biggest question of where things go now is thanks to Britten letting Dr. Evans in on the conspiracy. She's the wild card in all of this. She's often the most sympathetic to Britten, and is often the most willing to let Britten continue on his own journey without interference and with minimal guidance. If Dr. Evans were to change course on her treatment, things could get potentially worse for Britten. Especially as he begins to dig even deeper into the conspiracy and the reasons why things happened and he is in this situation.
Finally, getting  to Jason Isaacs and him going through all of those emotions of losing Rex. How heart wrenching were they to watch? Watching him go from absolute pain and anguish as he realized that he never gets to see his son again. Not the son Hannah knew, not the son he knew before the crash, but the Rex he had come to know and grow closer with in the episodes since the premiere. Watching all of his walls come crashing down in front of Hannah had me in tears.
Real Reality Check
With the conspiracy mostly contained in red, and being that this episode is mostly contained in red as well I would like to say red. But, I'm not, I'm going with green. As much as I believe Hannah and Michael have a wonderful marriage and they love each other. I do not believe he would have quite the breakdown he would have over losing Hannah compared to losing Rex.
One Final Thought
Between now and next week's review, it's highly likely Awake will not be on NBC's schedule for next season. Its ratings just don't justify renewal. However, Killen has said that we will get some answers before the season is out about the crash, and while I'm sure we won't get the perfect bookend to the series, something is better than nothing. And, at the very least, we did get to enjoy 13 episodes of one of the strongest series television has produced in a very long time.