"Down South" was just a good episode of Cougar Town. It didn't push many story ideas forward, but it did tip its hand at trying something with Laurie and Travis.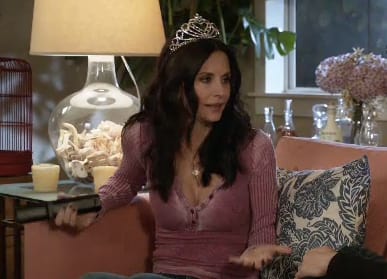 Granted the storm heading towards the cul-de-sac was mostly just an excuse to keep everyone confined to the sets; it was a "bottle" episode (Watch Chuck vs The Beard for another example of such an installment). Amazingly, though, for a bottle episode the gang sure ran dry of wine rather quickly.
Getting to the actual plot development, like I speculated last week with Holly, it looks like Cougar Town has begun dipping their toes into the Travis and Laurie waters. I know the show has feared putting them together because of the age difference between the characters, but no matter where it goes I like the two of them as a pair. They've always felt connected, and possess some good chemistry. Plus, even with their supposed "age" difference, Dan Byrd can't pull off being a teenager so well anymore. He looks like someone who could easily go out with Laurie.
Of course, Travis has a lot of competition with Wade, and Laurie doesn't have the same feelings yet for him. So he's mostly stuck as the shoulder for now... and as the personal robot of Wade. How painfully awkward and funny was that scene as Wade took control of Travis? Even asking him to dance with her and grab her backside. I just wish Laurie would have pieced together the pieces of why Travis stopped playing along, she's usually very in tune with his emotions.
Elsewhere tonight, I really enjoyed Bobby's complete non-issue with Travis' attraction to Laurie. He even gave him some very deep indications that he's known all along:
Bobby: Hey Bud, can we talk about Laurie?
Travis: You know I really like her, huh?
Bobby: Yeah, I could tell by the way you stare at her breasts. Different from the way you stare at other breasts, more respectful. | permalink
Head on over to our Cougar Town quotes page to see more of our favorites!
Other thoughts:
Community makes another cameo, albeit it on the title card.
Ellie singled handedly saved that perfect storm reenactment.
Jules and Bobby reconnected a bit tonight, and I really enjoyed them together. It was great to see why they worked as a couple as opposed to always hearing about why they didn't.
What did you think of tonight's episode? Is it too soon for Travis and Laurie? Should they ever be a couple? What did you think of Grayson's bar closing lines?