CSI Review: Cliffhanger With A Side Of Karma
Jim Garner at .
From the opening sequence - where Sheriff Liston was running down the statistics and we were watching the crimes she listed happen - I knew that "Homecoming" was going to be an episode for the record books.
Before anyone asks: yes, I did a little happy dance at seeing Jaclyn Smith return as Olivia Hodges. How could I not, given that I just said last week I was hoping we would get to see more of her.
Moreover, we enjoyed our first view of Barbra Russell, DB's wife, who was wonderfully portrayed by Peri Gilpin. And for the record, I also hope we get to see more of her as well. I like witnessing sides to DB outside his work persona. more than just "Work DB".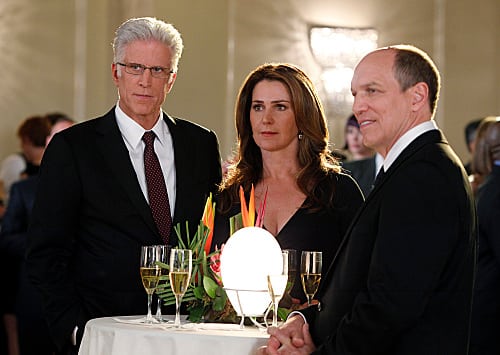 That said, the rest of the episode didn't leave us much to be happy about. Jeffrey McKeen was back and meaner and more corrupt than ever. Kudos to Fin for going after the truth and not letting her preconceived ideas about Jack Gilmore get in the way. 
It was surreal watching Sarah, Nick and Greg discuss the corruption from the past and missing Warrick. I can't believe he has been gone for nearly four years already. This season has seen its share of changes, as we saw the addition of DB, Morgan, Fin - and, of course, the departure of Catherine. I was almost concerned that we might be seeing the departure of Nick as well. But then I remembered reading recently that Eads had signed a deal to stay on for next season.  
Speaking of Nick, how awesome was he facing off against McKeen? We don't see Nick get upset very often, but I really thought he was going across the table at least two different times. I'm pretty sure Nick will come back for no other reason than to stop McKeen. 
Then there was Ecklie getting shot while blocking Morgan from the shooter. What a fatherly thing to do! I really hope that the shotgun slug he took isn't fatal. He's finally connecting to his daughter (is dating one of Charlie's Angels) and taking a bullet for your kid has to score some major brownie points. Right?
Anyone whose read my reviews will know how much I despise cliffhanger season finales, they are a pointless practice who's time has come and gone with UHF and VHF. And this hour was right up there with the worst of them.
But that doesn't mean we shouldn't consider where the fall season should pick up. After all, we want to make the best of a frustrating finale. So, what does Russell's kidnapped granddaughter, Ecklie's shooting and the dirty cop keeping tabs on Fin mean for next season? 
While we know Nick will be back, do you think Ecklie is in mortal danger? And the kidnapped Kaitlyn, do they have a reason to keep her alive? Then we have the lighter side with Hodges. What did Hodges mean his said his trip was truly life changing? Gah! I just keep coming up with more cliffhanger questions! The new season really can't come soon enough. 
Jim G. is a TV Fanatic Staff Writer. Follow him on Twitter.