Kate, Kate, Kate. Just when I thought Kate Reed's life couldn't get more complicated, in "Kiss Me Kate" she found a way to make more of a mess of it.
After the smooch between Kate and Ben on last week's Fairly Legal, Kate was obviously reeling and Ben was seriously smitten. 
I wasn't sure about Ben at the start of this season, but that besotted look on his face was damn cute. His whole face lit up when Kate agreed to their date.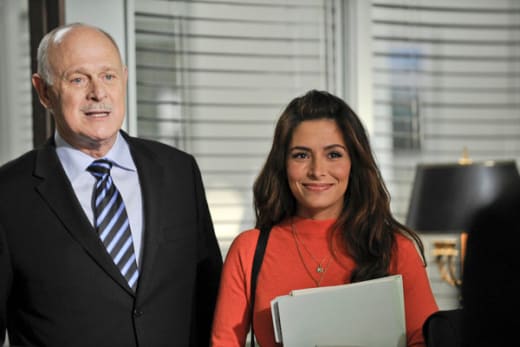 Unfortunately, Kate Reed couldn't simply go to dinner with a guy who liked her. Her mind was in overdrive and fear drove her to make a bad decision as she literally jumped into bed with Justin.
Two weeks ago, I was still rooting for a reconciliation between Justin and Kate. I looked forward to them talking about what killed their marriage and why Justin had a one night stand. I'd hoped maybe they could find their way back to one another.
But this wasn't about forgiveness or love. It was about fear. Kate ran from the very idea of moving forward with Ben right back to her safe zone, Justin.
Poor Justin probably thought that their night together meant they had a chance despite their divorce but somehow I don't see that happening. Kate and Justin are so broken that I'm not even sure I want to see them try and fix it.
My heart ached for Ben. Not only did the guy get stood up via text message but then he ran around like a love struck fool trying to find her. He was completely crushed when Leo told him Kate had gone to see Justin and it slid downhill fast from there. He too ran back to his safe zone. For him it's the snarky, arrogant persona that cares about no one but himself.
It seems as though Kate Reed has made a mess of not only her own life but also the lives of the two men who care about her. The sad part was she was hurting herself all the more.
On the work front, Judge Nicastro was back and I was thrilled to see him again. His father/daughter relationship with Kate is always a joy to watch. The union dispute was intense but the highlight was seeing Nicastro protect Kate's honor and then Kate returning the favor by saving his job. These two make a good team and I hope to see more of it.
I couldn't figure out if I liked Lauren's artwork better with or without the pink paintball attack. With the firm in financial trouble, was a $50,000 painting really a smart investment?  I'm with Ben on this one as he says in this Fairly Legal quote:
I'd rather enjoy $50,000. | permalink
Yeah, no kidding.
I was a bit surprised that Justin sought out the kid. He's usually the law and order guy. I also expected Lauren to offer to be the kid's art benefactor at the end and was a bit disappointed we didn't get there.
So where do you think Kate goes from here? Are you team Justin or team Ben? Or should it simply be team Kate for a while? I've found my loyalties changing. How about you?
C. Orlando is a TV Fanatic Staff Writer. Follow her on Twitter.