Mad Men Review: Death Is The Only Adventure

Dan Forcella at .
Rory Gilmore, Mr. Belding and the end of Megan Draper's run as a copywriter highlighted the eighth episode of Mad Men's fifth season, "Lady Lazarus."
One stanza in the Sylvia Plath poem that this episode gets its title from reads:
Dying
Is an art, like everything else.
I do it exceptionally well.
Just as the lady of the poem wants nothing more than to finally die after being revived time and time again, Megan Draper wanted nothing more than to finally get out of the advertising business.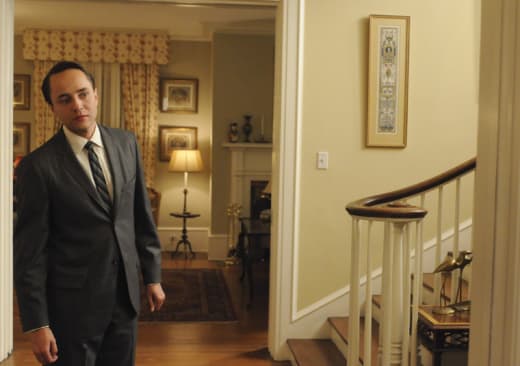 She was great at her job. Like the above excerpt reads, Lady Lazarus was exceptional at everything, and like Peggy so astutely commented to Joan, Megan is good at everything...she's just one of those girls.
Megan Draper picked up advertising quicker than anyone at SCDP, but she didn't love doing it. Did she hate advertising? Did she hate the people working there? That is an argument for Don and Peggy to have, and they had it, but Megan's dream has always been to be an actress.
And so it shall be done. In yet another act providing evidence that Megan and Don are right for each other, the former quickly told the latter the whole truth after skirting around the situation earlier in the day, putting Peggy in a pickle in the mean time.
It was great to see Don take the whole situation in, not know exactly how to process it all, but ultimately accept it. Don't you get the feeling that if this was Betty, he would have blown up at her and said no? Maybe it's because it was Megan and not Betty, or maybe Don has just grown over the past couple of years, but this seemed like a very healthy situation.
My question then becomes, is he just holding it all in? Will more events like the one that happened with Mr. Belding and the Cool Whip cause Don and Peggy to blow up at each other more and more, causing a divide in the office? Will the absence of Megan ruin the positive momentum SCDP had as of late?  She DID seem to have the most success recently. I'm betting Ginsberg steps up to the plate.
While most of the Mad Men and Women were dealing with the Megan-pocolypse, Pete had his own thing going on with Rory Gilmore. What are we supposed to think of Pete at this point? When Don was cheating on Betty time and time again, there was still sympathy to be had for the man, mostly because Betty was so awful.
However, Trudy is such a doll that watching Pete continue to cheat just gets more and more difficult. Alexis Bledel was great as Howard's wife, and there was a nice connection between her character and Pete, but it has come to the point that there may be no redeeming characteristics in Pete Campbell at all anymore.
"Lady Lazarus" ended in a fabulous montage set to The Beatles' "Tomorrow Never Know." We saw Don relaxing at home - still not having any idea what's going on out there - Peggy smoking up at work, Pete pining for his new lover, and of course Megan playing dead at acting class. Was that the death our Lady Lazarus was looking for this entire time?
What did you all think of this week's Mad Men installment? How did you like the guest appearances? Check out a number of great quotes from the episode in our Mad Men quotes section and then sound off in the comments!
Dan Forcella is a TV Fanatic Staff Writer. Follow him on Twitter.