Tonight's penultimate episode of the season – but hopefully, not the series – could have certainly served as a season finale.
Between Pete's rash judgment to help his patient and both Amelia and Addie facing life-altering decisions, there were choices galore to be made. Rest assured, though, the Seaside Wellness doctors will be back next week and we'll hopefully get some, if not all, of the answers to the questions we were left with after "Drifting Back."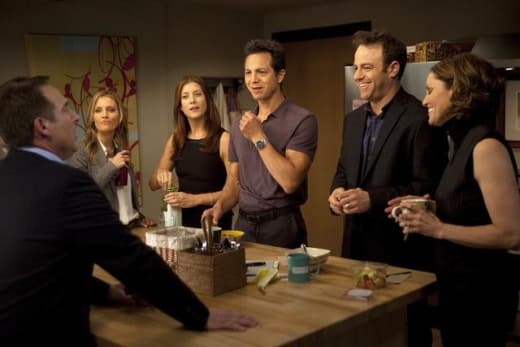 For now, let's discuss what went down.
Sheldon finally returned from his two-week vacation in Aruba with his ex-wife. It was really nice to have him around, but a shame we didn't get to see more of an actual storyline with his personal life.
Everyone but Amelia was excited to see him. At first, she was utterly cold toward him and then was asking for his help in an extremely unexpected way to help her forget. I love how frustrating Amelia can be at times, and then she can immediately make you feel every ounce of her pain.
Thank goodness, Jake was there all along to help her stray from slipping away back to using. Though it was short, I appreciated the way he was able to relate to Amelia by sharing more on his background story. All in all, Jake helped Amelia realize that in order to choose to stay alive, carry her baby to term and for her baby to help save the lives of other babies, she couldn't let her addiction kill her nor the child.
Elsewhere: Sam and Addie spent most of the time playing house, finally pushing Addie to ask Sam what he truly wanted. We weren't shown his response, but Jaddison shared yet another explosive and surprising kiss.
I loved when Jake said: "I see that we're all in it together, and I think I'm good with that." That's totally how the doctors at Seaside Wellness are – all in it together. For more lines, don't forget to check out our Private Practice quotes section.
Meanwhile, this week's episode focused on two different cases. In the first, Sheldon and Violet worked together with a family troubled by a father who couldn't control sexual feelings for his daughter. Luckily, Amelia was able to save the day by removing a lesion on the father's brain. I thought it was realistic for the daughter not to be able to forgive her father right away.
As for the second case, Pete was caught between a patient's partner and father over the course of life saving treatment. While both Sam and Charlotte were able to separate their feelings from the law, Pete refused to honor the patient's father's wishes and helped end the patient's life. Last season ended with the practice in shambles, will the hospital face the same fate?
Now it's time for the Violet Annoyance Scale (VAS). Thanks to Pete acting like an irate child and incredibly irresponsible throughout the entire installment, I'm rating this episode a 2 on the VAS. Violet constantly tried to get him to talk about their relationship, or the lack of one. The harder Violet tried to talk to Pete, the more it seemed like he would go to the extremes to avoid her. Regardless of their circumstances, she made it clear that she wanted to fight for what they had. Hey Violet, key word is had. These two together are beyond excruciating to watch now.
I honestly laughed out loud when Violet asked if she was repellant. I also loved when Cooper stated that she, Pete and Lucas made a great family but questioned if she and Pete were actually a great couple. This is something most of us have been wondering for quite some time now.
Other Observations
How adorable was baby Henry? Seriously, his big eyes show just how happy a baby he is. Then again, who wouldn't want to be fed while listening to the waves crash?
Violet is FINALLY selling her murder home. Seriously, that house could be showcased on American Horror Story. 
So, what did you think, TV Fanatics? Hit the comments to share your predictions for next week's season finale. Also, don't forget to return later this week to chime in on our Private Practice Round Table.