Nobody died. The company stayed in tact. There really weren't any serious surprises at all.  While the season five finale of Mad Men was a conclusion to a seemingly uneventful year, "The Phantom" also continued a number of individual character arcs that are heading in some interesting directions.
Mad Men will have the occasional suicide, company blow up, or secret life, but at the end of the day it is simply these characters that keep us coming back, wanting more and more of Don, Roger, Peggy and the gang.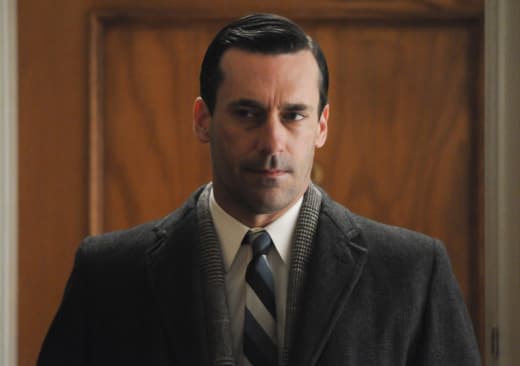 So although I finished watching the season finale asking myself if anything happened during the past 13 episodes, when you take a deeper look at what actually went down in season five and even this final installment of 2012, it was pretty hefty.
Pete Campbell's rise to the top was so successful that nobody questions a thing he does anymore...well except Don, who wondered if proxying his partners' vote was even allowed.  While his business life couldn't have been better this season, the personal side of things kept life interesting.
That all came to afoot in the finale, as he had a rendezvous with Beth just before she went in for electric shock therapy.  What a whirlwind for the guy!  He has this moment with the girl, she ignores him, then she calls him for a hookup, and she tells him she's going to forget everything that happened between them.
I don't care if he was blowing up his own spot or not, I would have given it to his friend on the train as well.  That guy is a true a hole.  Like Lane Pryce and everyone else, that office of the New Haven Line sure wanted to get in the Punch Pete Campbell Club, and that's always fun to see.
Ever since the beginning of their relationship, it was obvious that Pete and Trudy weren't meant for each other.  The fact that his doubts have come up more often, and that she is giving him an apartment in the city, only make me think that their time is coming to an end.  Let us not be surprised if they are divorced next season.
Don's relationship, on the other hand, has been going in the other direction.  While there are those that believe he is making his way back to the Don of old, and that final unanswered question of the season - "Are you alone?" - made it seem murkier than I imagined it was, it couldn't have been more obvious to me that this season was so much about Don's growth as a man and a husband.
In the finale, his act of getting Megan the part in the commercial seemed like one of selflessness.  That is quality that the old Don never had towards Betty.  I'm sure there are those that could also argue his action as simple appeasement.  He let the girl go play dress up so that he could spend time with the two feisty girls at the bar.  With the look that he gave them, I wouldn't be surprised if things were different between Don and Megan next season.  However, it wouldn't be the conclusion to the arc I was watching all season long.
Peggy started a new chapter in her professional life, finally getting out of Don's shadow, Lane went down a dark path that ended in last week's horrific death, and Roger got strange with LSD on more than one occasion. 
Like I said, there were a lot of interesting stories told about our favorite Mad Men characters.  It just didn't seem to add up to much.  The company's doing much better now, and the new office space will prove that to everyone soon enough, but that felt like a less than earth shattering event.  In comparison to season finales of the past, it felt slight.
There can't be much more Mad Men left in our lives, so we best just enjoy it while we have it.  "The Phantom" was a pleasant conclusion to a fine season.  What did you all think of it?  Did it satisfy your needs, or did it disappoint as a finale?  And will somebody please put some pants on Roger Sterling!
Dan Forcella is a TV Fanatic Staff Writer. Follow him on Twitter.