Everything seemed to go wrong for Jane Rizzoli in the season premiere of Rizzoli & Isles.
"What Doesn't Kill You" picked up exactly where the season finale left off. Right at the scene where Jane shot her best friend's biological father.
Unfortunately, Jane was fixated on the fact that Paddy Doyle was a mobster wanted in connection with about 15 murders. Not that she shouldn't have been. She's a cop. That's her job. But perhaps she could have toned it down a bit for her best friend who believed her biological father was only their to protect her. Calling Maura naive and ignorant was pretty harsh given the circumstances.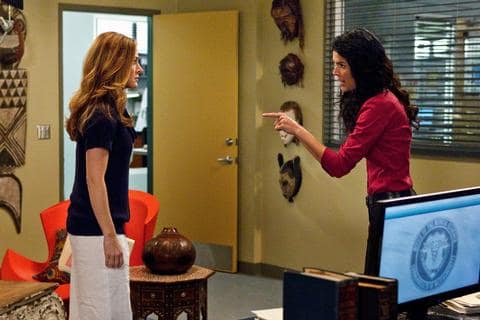 Running to Maura in the hospital only to bark at her about what to say to Internal Affairs didn't help any. Again, I understood that Jane was frantic and scared but Maura was hoping the two friends could apologize to one another and that simply wasn't going to happen.
Of course, it all led to a fantastic fight in Maura's office in front of that insipid Dr. Pike but more entertaining than the fight were the flashbacks. Watching these two in action before all Hell broke loose made me long for a fast reconciliation for these friends. Especially when I heard this conversation between Jane and Maura...
Maura: This microphone doesn't make me look like I have three breasts does it?
Jane: Hey, some guys are into that. | permalink
Sigh. That scene made me long for the good old days.
I love Jane but her inability to empathize with Maura's feelings for her father was definitely a sticking point for their relationship.
Speaking of relationships, I know that Agent Dean ends up playing a much larger role in Jane's life in the books (which I haven't read) but here he just comes off as such a jerk. I've never liked him in this show and I was thrilled that he was sent back to D.C. I hope he stays there for a good long time.
I guessed the Captain was dirty the moment he asked Jane if she had sexual relations with all of her colleagues. It seemed like a dead give away that he was trying to set up Jane.
I felt for Maura throughout the entire episode. She was grieving for a badly injured father she barely knew, while still being desperate to find out the identity of her biological mother. Not to mention she was riddled with guilt because not only did her best friend shoot her father but her connection to Paddy Doyle put all of her friends in danger.
That was an awful lot to carry on those slender but fashionable shoulders.
At least she had her mother who was adamant that whomever Maura's biological mother was, Maura was her daughter. End of story.
I hated it when Jane put Angela in the spot of having to chose between her daughter and her pseudo daughter. It really wasn't fair and was kind of childish.
I couldn't blame Angela when she griped in this Rizzoli & Isles quote…
You made me leave my Luxuriana mattress for this kind of treatment? | permalink
In the end, our dynamic duo didn't quite make up, even though Paddy admitted that he would have shot Jane if he'd had the chance. I'm kind of glad they didn't. This is a rift that will need a little time to heal and I look forward to watching them work it through.
But the best part of the night? Finding out that Jane's middle name is Clementine. Rizzoli & Isles. It's good to have you back.
C. Orlando is a TV Fanatic Staff Writer. Follow her on Twitter.