Royal Pains Season 4 Preview: Where Do Hank and Evan Stand?
Matt Richenthal at .
Royal Pains returns with new episodes on Wednesday, and with one pressing question on the minds of fans everywhere: What will happen between Hank and Evan, following the siblings' falling out to close Royal Pains Season 3?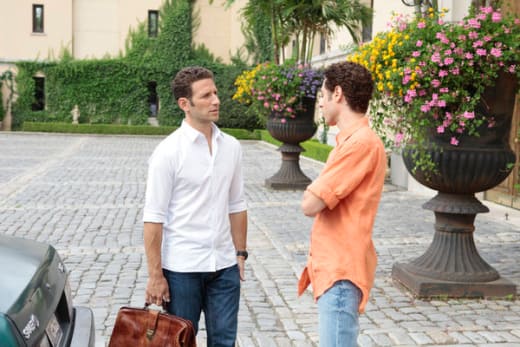 "Evan is off in HankMed 2.0, as he calls it, while I'm left in a lurch trying to piece together the remaining bits of our company so I can continue to do what I do, which is taking care of patients when they need me, where they need me," star Mark Feuerstein said on a conference call previewing the season ahead.
"And it looks like Evan is very good at being an entrepreneur and growing the business on his own and finding other doctors to replace his poor, lonely, sad brother, who is now on his own. But as I like to believe... the brothers will come back together, will find a way that they can get over this schism. And will be that much more mature and productive because of the fight that they had."
The actor admits that Evan is "right" in the stand-off, but also seems to understand where his own character is coming from, referring to Hank as a "purist" and adding:
"What is selling out? When are you watering down your initial intention, your vision, for the sake of commerce and marketing? Those are the questions Hank is asking Evan all the time."
And what about Divya? What is her status while Hank and Evan have it out?
"All I can say to you is that it's not for lack of effort that Evan and I try to figure out the answer to [the] question [of]: Who gets Divya Katdare? But only by watching our show will you receive your answer."
Oh well. You heard the man, Royal Pains fans! The new season kicks off Wednesday, June 6 at 9/8c on USA.
Matt Richenthal is the Editor in Chief of TV Fanatic. Follow him on Twitter and on Google+.