These days, fictional fathers run the gamut from the traditional to the unorthodox. Whether they are married or single, an ex-con or a fairy tale prince, all of the following characters make our list for this year's Best TV Dad.
But only YOU can decide who actually goes home with that title. In honor of Father's Day, run down the contenders and then vote for you favorite below...
-------------------------------------------
Adam Braverman, Parenthood - Adam's a stand up guy and a great dad. From organizing family outings to dealing with son Max's Asperger's syndrome, or somehow finding the money to send Haddie to the college of her dreams, Adam's earned his spot at the top of the list.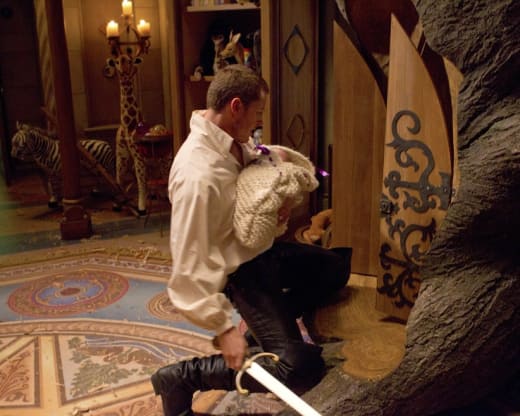 Prince Charming, Once Upon a Time - What other dad had to do battle with an evil queen's minions in order to save his infant daughter by sending her off in a magical tree trunk to places unknown? He's also a prince who knows how to use a sword. How many dads can say that?
Phil Dunphy, Modern Family - Whether it's goofing off with son Luke, taking middle daughter Alex on an impromptu road trip just to bond or stumbling through the news that oldest daughter Haley is no longer a virgin, Phil Dunphy never disappoints as a dad.
Mitchell and Cameron, Modern Family - Why have one dad when you can have two? Mitch keeps things stable while Cam makes sure their daughter will forever be surrounded by clowns and balloons and fun. Either way, Lily is one lucky girl.
Frank Reagan, Blue Bloods - Frank perfects the role of family patriarch. He's strong but loving. Best friend and confidant to daughter Erin. Sounding board and example for sons Danny and Jamie. And who else could keep these wonderfully rowdy Reagans in line for their traditional Sunday family dinners?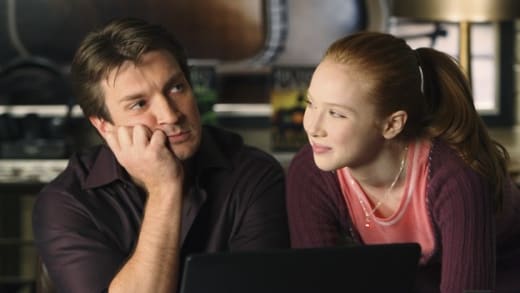 Rick Castle, Castle - Castle is definitely unconventional but this single dad must be doing something right. Despite Alexis acting more like the adult in this relationship, Castle's sense of fun coupled with his overprotective nature has given his beloved daughter a safe place to always be a kid while giving her the confidence to become a stunning young woman.
Henry Spencer, Psych - Henry's dream may have been to have a son who became a cop but his unorthodox ways still shaped son Shawn's career. Being a police psychic may not be exactly what Henry had hoped for but it's certainly given this father / son duo a different way to bond. Now we just hope Henry survives to continue the fun.

Max Keenan, Bones -  Okay, so Max kind of forfeited his father of the year card when he abandoned his kids as teens to go on the run. But we'll give him points for trying to make up for it, especially this season. Max not only stepped up for granddaddy day care with granddaughter Christine, he made sure daughter Temperance had an escape when a serial killer framed her for murder. It's certainly not traditional, but it's definitely love.
Burt Hummel, Glee- Most people would have pegged Burt for being a man who wouldn't take his son's homosexuality well. How delightful to find this dad being his son's biggest supporter.

George Altman, Suburgatory - George uprooted his entire life in the hopes of giving his daughter a better one. Even if the suburbs isn't quite what they expected, that still earns George points as a good dad in our book.
Jack Carter, Eureka - When Jack stumbled into Eureka with his rebellious teen, staying was the last thing on his mind. Now, not only is he Sheriff, he's a devoted dad and surrogate dad to Allison's two kids. You've got to give points to a dad with love to share.
Did we leave anyone out? Let us know in the Comments and vote now between the options given:
C. Orlando is a TV Fanatic Staff Writer. Follow her on Twitter.