Bones Season 8 Scoop: Will Booth Propose?
Steve Marsi at .
Bones Season 8 has been billed as "the season of is love enough" by executive producer Stephen Nathan. Will it be? And if so, will it culminate in Brennan proposing to Booth? Or vice versa?
Nathan told TV Line the following this week:
"Well, [the engagement issue] will be part of this season. That's been held over their heads for a long time. It won't resolve itself, but it will be something that we do explore this season."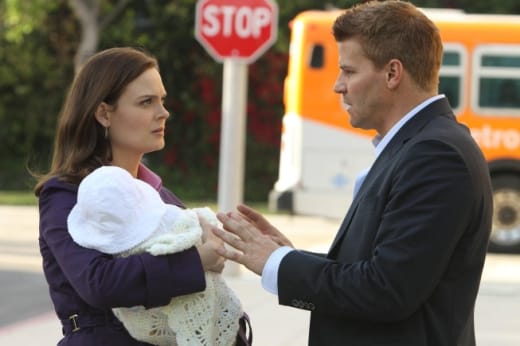 Doesn't sound too optimistic, but Nathan, Emily Deschanel and David Boreanaz all made it clear that the tone of the coming season will be darker than last, with much unresolved conflict.
"We kind of looked at last season as everybody came together and became very comfortable. So it was sort of a funnier, very peaceful and kind of loving season," Nathan said.
"But we don't want them to get too comfortable. People were broken apart [in the Season 7 finale] and we're going to try to see how they come back together, if they come back together."
"Booth and Brennan have a lot to deal with. She might've done the right thing, but she broke up the family [and] went away. She took his daughter. And they're going to have to get past that."
Steve Marsi is the Managing Editor of TV Fanatic. Follow him on Google+ or email him here.