Welcome to the 221st Gossip Girl Caption Contest at TV Fanatic. Yes, 221 ... what a run! If you're new, this is where our readers submit their best caption(s) for a photo from the CW drama. Let's do it!
This week's Caption Contest winner, using a photo from the set of Gossip Girl Season 6, is Lola. Congrats on a job well done! The winning entry now appears below the image.
Honorable mentions go to Arte, Anna-V, leanne and Carra. Thanks to all for playing!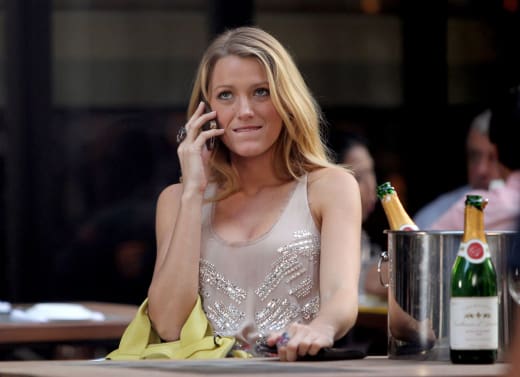 [Hi, you've reached Dan's voicemail. Leave a message.]
Serena: "Uh. So hey Dan. I'm totally just chewing my lip right now because you stuffed up my relationship with Blair and ooh… Look if you bite your lip really hard enough, it'll bleed! Oops. I went off topic. I just wanted to say I don't love you anymore and I want to thank you for getting me hooked back on drugs after you pretty much told me I was a whore you never wanted too see again after we had sex. So yeah, oh, and I didn't delete the tape. Oops. Blair overheard this. I gotta go and let her kill me because I outshined her in bed. Tada. S."
Steve Marsi is the Managing Editor of TV Fanatic. Follow him on Google+ or email him here.