"Melt My Heart To Stone" teased us with a Hoyt connection and almost had me fooled. Not that I thought the Rizzoli & Isles summer finale was going to resurrect the serial killer, but a murderous apprentice certainly seemed plausible.
Women being murdered, having their arms cut off and then encased in plaster to become replicas of the Venue de Milo made for a suitably creepy last episode of the summer. As an added bonus they really kept me guessing about the murderer until the final 15 minutes.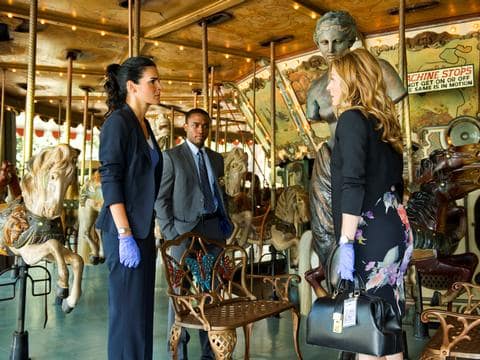 That's not to say I was happy to see Eddie Cibrian return as Dennis Rockmond.  I disliked the character so much that I was thrilled he appeared to have been written off after only one episode. His return was a double edged sword.
The down side was that we had to endure more time with Dennis. I couldn't believe that Maura would even consider seeing him again. The guy slept with her and then didn't call for three months. His excuse about his book tour was lame. Call, text, e-mail, tweet... there are plenty of ways to communicate and he did nothing. Jane was right. Maura should have let the jerk go.
If only she'd listened.
With all the talk of his new book, I'd almost forgotten that Dennis was an artist, specifically a sculptor. That's when it all started to come together, which brings us to the upside.
Dennis Rockmond dead at the bottom of an elevator shaft.
At least I now know there's little chance of his return and Maura can hopefully find someone worthy of her in the future. Even if he weren't a serial killer, Dennis was never that guy.
We've generally been witness to Jane dealing with the trauma of horrific events. Now it's Maura's turn. As Jane told her in this Rizzoli & Isles quote…
 Serial killers get away with it because they appear so normal. | permalink
But it seemed that Maura couldn't forgive herself for not seeing through Dennis' charming facade. Hopefully Jane can help her get through this event when the series returns.
In other stories, I was surprised they brought back Detective Riley Cooper, but she should make an interesting addition to the homicide department.  It always seemed odd to me that Frankie would be up for a position in homicide as a new detective. I'm no expert but it's always seemed that most cops work their way up to that department.
Now we'll get to see how long Frankie and Frost will hold their grudge and which one Riley will start a relationship with. I vote for Frost. But then that leads to all types of conflict with them working on the same squad.
Once again, Lydia was back and Angela made me proud. No matter how angry she was at this twisted situation, she knew what mattered.
Angela: That baby didn't have anything to do with how it got made. | permalink
Angela has a good heart and I hope that the baby is her grandson, especially since it just ended up on her doorstep.
One of the biggest disappointment of the last few episodes was that Maura's biological family was never mentioned after such an emotional cliffhanger. They just left that storyline hanging without a word and I can only hope they revisit it when the season continues in November.
But overall I've enjoyed this run of Rizzoli & Isles. Jane and Maura's banter is some of the best on TV and proves that girl power can be as entertaining as any romance. That November return feels a long way off, doesn't it?
C. Orlando is a TV Fanatic Staff Writer. Follow her on Twitter.