Ellen Pompeo Previews Grey's Anatomy Season 9
Steve Marsi at .
Sounds like Meredith Grey and her colleagues are in for a very busy fall.
With the ninth season of Grey's Anatomy fast approaching, lead actress Ellen Pompeo took the time to discuss her return to the medical drama and what we can expect from her character September 27 and beyond.
Excerpts from Ellen's lengthy interview with TV Guide below ... take this as a WARNING, there are actually some fairly significant plot details here that Shonda somehow (apparently) let her reveal!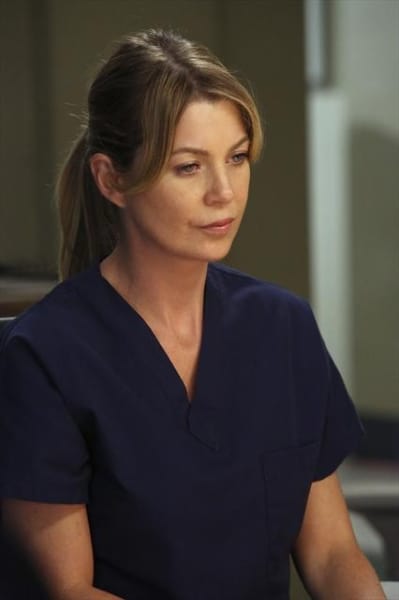 On the start of Grey's Anatomy Season 9: "I like the way they start the season, which is after a three-month jump ... in the second episode we go back to immediately following where we left off, which is an interesting way to tell a story."
"[Episode 2] is mainly the rescue and us going to the local hospital. You just see a helicopter coming over us. We're all in the Boise hospital where we crashed and we stay there a couple days. And then we go back to Seattle."
"And then Cristina leaves to go to another hospital in the Midwest. Obviously Meredith thinks Cristina is running away and she shouldn't. Life sucks, but you can't run every time something happens."
"Why Meredith wouldn't take a job at Harvard is a bit of a stretch. But for whatever reason she doesn't and convinces everyone [but Cristina] to stay. That's a difficult thing to believe when I'm playing it, but I'm just a paid employee."
On what's coming up for Meredith: "Shonda really wants to see her doctors, who are attendings now, teach. We have had interns on the show before and we've taught. Whether this will be different, I'm not sure."
"It's always a challenging balance, but it's always my goal to do things that make the character grow and seem more mature. At the same time, they're always going to write certain behaviors that I only have so much control over."
On some of the show's core relationship dynamics: "I know the Cristina/Meredith relationship is super integral to the show, but something [Patrick Dempsey] and I always discuss is that if sometimes [Meredith's] loyalty seems to be with Cristina before my husband, I don't necessarily think that is all that realistic."
"Otherwise you wouldn't have a very healthy marriage. I don't know why you'd be married if your spouse isn't your number one person. We try to do what we can, but in the same brushstroke, it's just a TV show."
On the impact of Derek's injury: "We're trying to see how that works out. He's trying to operate. Or we'll see if he teaches or whatever. That's a big question. He's happy to survive and that his daughter has two parents."
Also: "We're moving into the dream house. And I think Alex takes Meredith's house."
On Arizona's big storyline: "I'm not really around when they film those scenes, but what I can say is the scenes [Jessica Capshaw] has are really intense and definitely challenging ... it's going to be great for the show!"  
On why she signed a new deal to return for Season 9: "Because I'm not crazy! ABC appreciates me very much and I'm not stupid [laughs]. The network goes above and beyond and I'd be an ass---- to not acknowledge that."
"People still love the show. As cynical and jaded as I can get about it sometimes because I've been doing the same thing for so long, the truth is everywhere I go, people genuinely light up when they talk about the show."
"I can't ignore that, either. That's very significant. If I'm bringing joy to people and entertaining people as an actor, then I should be grateful for that and act accordingly, you know?"
On the new faces this fall: "We have Camilla Luddington, who is an absolute doll. She's a lovely young actress and I think people will enjoy seeing her ... so far to be honest the focus has been Camilla, who really pops."
"She plays Jo, my intern. Meredith takes out all her frustrations about Lexie dying [and another tragedy to come] on Jo. I don't deal with my sister's death yet. That comes up I think in episode five."
On her acting after Lexie's death: "It's not fun. I actually said to my husband the other day, as a younger actress you love the torture and the pain. Acting can be an amazingly cathartic thing, especially for young girls."
"And then when you get older, settled and very happy in your life, you don't want to go to work and torture your soul and feel that pain. I used to be so into that, but now when someone dies it takes a lot of work."
Steve Marsi is the Managing Editor of TV Fanatic. Follow him on Google+ or email him here.