Perception Exclusive: Eric McCormack Sheds "Light" on Daniel Pierce, Season 1 Finale

Sean McKenna at .
Part one of the two-part Perception finale threw the show for a loop, revealing Pierce's breakdown before a surprising last minute twist. Will the doctor get the medical help he needs? Is there really more to the conspiracy?
To get fans excited for the second part, "Light," I spoke with Eric McCormack over the phone about the season-ender and what it's like playing a character quite unlike Will & Grace's Will Truman?
How does he handle all of the rapid fire dialogue, for example?
"Very carefully," the actor said. "With Will & Grace it was about the comedy. In this case, it's about making the science clear but also making it believable that this is a man that is the smartest guy in the room. That's what's the most fun. Especially with speeches like that, the really lengthy scientific ones, I just think 'Wow, for a half an hour, I get to be way smarter than I really am.'"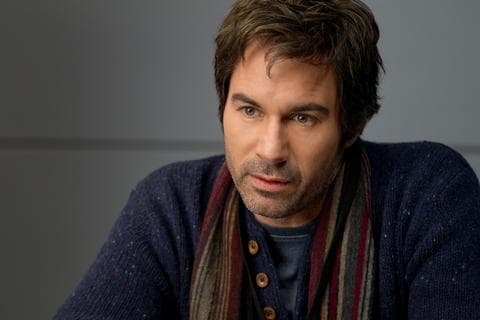 And McCormack enjoys delivering those engaging intellectual performances, most notably during the classroom scenes.
"Our consultant, David Eagleman, a brilliant neuroscientist unto himself, wrote a book called Incognito: The Secret Lives of the Brain. And the whole point of it is kind of like those lectures, taking lots of dry information that's way hard for most people to understand and making it active, something not only that you understand but get excited about."
The star continued: "I think that's what I love, not only does it bookend the crime of the story, but it tells us a lot about his particular passion. He's not just a scientist in a laboratory. His passion is sharing it with other people."
Yet it was Pierce's breakdown in the bathroom with Natalie in the episode "Shadow" that proved to be McCormack's "toughest, but most rewarding" scene.
"We set up these wonderful aspects of the character, that he is a paranoid schizophrenic, but also that he is a conspiracy theorist, things that we have only been alluded to or took advantage of when it was appropriate for several episodes. But with that episode, that's what the story was. It was his illness, his paranoia, and his conspiracy theories that drove the episode. It was great to dive into that.
McCormack admitted that the excitement of the show doesn't stop there.
"[In] the finale, now that [Pierce] committed himself to the hospital, there are some scenes there that were probably the toughest physically.
"At the same time, that's the stuff you live for as an actor, to go down that road. I think particularly, it's a weird tight rope to walk because he is such a genius. You're playing someone that feels most of the time, even though he's fully aware that he's hallucinating, he feels totally in control in an arrogant way. To suddenly realize at the end of the "Shadow" episode, that he's been hallucinating fully for three days was such a moment of weakness that we've only hinted at all season."
McCormack enjoys digging deeper into his character and providing an engaging one for the audience: "There were a couple moments this past season where I thought, 'I went too comfortable. This guy is best when he is on edge. The show is most interesting when he is a fish out of water one way or another.' I think I want to keep that and I think there's so much to explore [as we head towards season two.]"
Before we finished our conversation, though, I couldn't help but ask if we might ever see any Will & Grace castmates in the future.
"It came up last season and it will probably come up again this next season, I won't say who, but I think it's possible. Not only are they all good actors outside of the characters they played on the show, but I do think that people get a real kick out of it. And seeing particularly how different Daniel Pierce is from Will Truman, that people will get a kick out of seeing us play together again."
Tune in to see Eric McCormack on the satisfying conclusion to the two part finale of Perception on Monday at 10pm on TNT.
Sean McKenna was a TV Fanatic Staff Writer. He retired in May of 2017. Follow him on Twitter.