Scandal Season Premiere Review: Two Sides To Every Story
Miranda Wicker at .
Finally, Scandal is back with the answer to the question we've been asking all summer: Who is Quinn Perkins? The only problem is that now we have more questions than answers. Again.
"White Hat's Off" proved just how far people will go to save the person they care most about: themselves.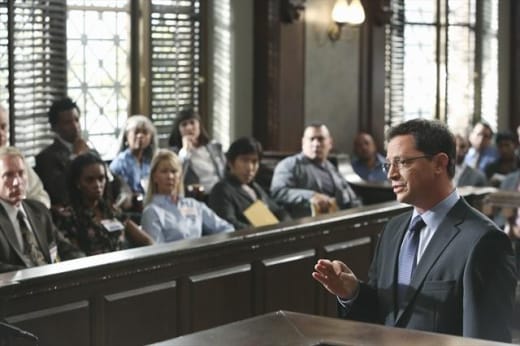 First off, Quinn Perkins is Lindsey Dwyer, a.k.a. the "Molotov Mistress." She's wanted for the bombing of the office park where her then-boyfriend and his other girlfriend, the one he wasn't supposed to have, worked. The only evidence against her is an angry voice mail and the fact that she fled. But still, seven people are dead and someone obviously did it.
But was it Quinnsey? (I'm not sure which she'll be going by for the rest of the series, so I'm kind of confused as to what to call her at this point.)
Abby and Harrison aren't so convinced of her innocence and say as much numerous times. Olivia, however, is convinced it wasn't Quinn. Huck is also convinced it wasn't Quinn. They both have good reasons to believe that it wasn't Quinn. Reasons like the fact that they helped cover it up.
The reveal that Olivia and Huck were the ones who kidnapped Quinn, brought her to D.C. and set her up with the new identity is one I didn't see coming. In fact, when Huck got into the car and I saw Olivia behind the wheel, my jaw actually fell open.
The scenes between them when Huck was looking for the video footage were so well done. No confidences were betrayed, even slightly. Their involvement does, however, explain how Olivia knows so much about Quinn and why Olivia brought her on to Pope & Associates. If Olivia is intimately involved in this, keeping Quinn close is key to protecting her own assets.
Olivia tells Quinn she never takes a case she knows she can't win, but in this case, she's taken one she can't afford to lose. (This scene, and more, can be found on the Scandal quotes page!)
But why did Olivia aid in this cover-up? In doing so, the actual killer has gone free. And who is this woman that she's so highly connected to everything?
Because of David Rosen (Josh Malina) being a regular character now, my suspicion says that we'll find out at some point. The phone call that got Quinn acquitted did serious damage to his career and has raised suspicions about just how "good" Olivia is. David intends to find out just what she's hiding. I can't wait to find out.
In other things that made my eyes wide, Bellamy Young is nothing short of amazing as Mellie Grant.
How much do you love to hate her? If you're me, a lot.
Here's a woman who, to save her husband and the life to which she's grown accustomed, will stop at nothing. She'll get pregnant with "America's Baby" and force the President to go to war. She's a master manipulator. But she's also given up everything to chase someone else's dream and Fitz has a way of cutting her down by being so cruel that it makes her sympathetic. I have emotional whiplash from watching them go back and forth tonight.
And speaking of emotions, so much went unsaid between Fitz and Olivia tonight. Just knowing that Cyrus had spoken to her caused Fitz to pause in his tracks. Their "I hate you" exchange was a thinly veiled attempt to say what they know they can't. Olivia's face betrays her emotions when it comes to the President, and the silence between them on that phone was almost palpable. Even though she can't be with him, she can't stop herself from helping him fix things.
It's just what she does.
Every character on Scandal has two sides, and so far, despite the background information we gleaned from season one, we've really only scratched the surface of their stories. And with all the questions that keep coming up, it seems that what we think will be the end of a story arc is really just the beginning of a much larger tale. After tonight, I'm excited for what's to come.
What did you think of "White Hat's Off"? Was the Quinn Perkins/Lindsey Dwyer reveal worth the wait?
Miranda Wicker is a Staff Writer for TV Fanatic. Follow her on Twitter.