Welcome to a stranger's review of CSI! Jim Garner was unable to make it this week, so I'm braving territory that has been unexplored since the early days of the CBS drama. Let's see if we can have a good time with this week's "Code Blue Plate Special"
Not only has it been a long time since I've watched CSI, but I've regretfully not been to Las Vegas for about five years. One thing that hit me right off was that if I looked out of the local diner and saw a man standing like Mike Myers, staring blank-faced inside, there is no way in the world I would have allowed those beat cops to leave. Especially in the month of October. That literally gave me the chills.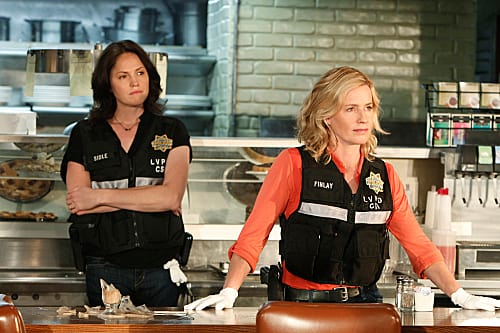 I don't know how often the CSI team has to deal with crimes that hit so close to home, but when pretty much everyone frequents a diner and knows the employes and regular patrons by sight, if not by name, it really gave the case an urgency to be solved. As Jim told the US Marshall, those were his friends that were killed... so someone better start sharing information.
I determined fairly early on that the Myers wannabe, Basderick, wasn't the main culprit, but it was pretty cool how they came to the conclusion that there was more than one killer in the diner. My idea was that the witness protection murder went down and Basderick came back and found his girl Edie killed, then murdered the other killer for doing Edie and reordered the bodies so nobody would know. THAT'S why I'm not a policeman. Like Sara, I would have had the guy put away just because he annoyed me.
Sara put him in a mental prison by pointing out that the fear he put into Edie was what killed her. If he hadn't frightened her so badly that she preferred to work longer rather than go home, she would have been alive. What are the odds that realization will change his behavior?
Luckily, my second thought was Vincent the diner owner was the doer, because of the reception problem in the fridge. I couldn't have figured out how or why to connect him in a million years, but something would have been eating at me about that little tidbit of information. As is too often the case, he did it for money. Can you imagine? What made him especially pathetic was he could have gotten away with it if he hadn't used one of his own coins to jam a coin receptacle. THAT'S why he deserved to be caught!
Part of the reason I didn't watch religiously, although I was gung ho when CSI first came on the air, were the silly/sarcastic remarks that were bandied about with Grissom and Catherine. Watching the replacements made over the years, I think I actually miss them.
There is a magic that's gone and it can only be attributed to their absence. Elizabeth Shue as Fin is quite enjoyable, and a decent replacement for Catherine. I really like Morgan, too. She's so cute and fresh. I'm a little meh on Danson's D.B., but the two who were really disappointing to me were Sara and Nick. Frankly, I've never been a fan of Sara, but I don't remember Nick being quite so bland or wooden. I'm hoping for the sake of all of you faithful viewers that my assessment is off and he was having an off night. 
All in all, I was really glad I volunteered to watch. It was fun to revisit the original and find out what everyone was up to. I kind of missed the more detailed graphics and close-ups of the technical parts I remember so well, although there were a few of them for me to enjoy. Thanks for putting up with me and be sure to come back for the next all new episode when Jim will be back doing what he does best!
Carissa Pavlica is the managing editor and a staff writer and critic for TV Fanatic. She's a member of the Critic's Choice Association, enjoys mentoring writers, cats, and passionately discussing the nuances of television and film. Follow her on Twitter and email her here at TV Fanatic.