Homeland Season Premiere Review: Locations, Locations, Locations

Dan Forcella at .
Between the critical acclaim, its abundance of fans and one of the most impressive nights at the Emmys ever*, Homeland is coming off of one of the best seasons in television history. That's a lot to live up to.
"The Smile" did an astounding job, not only at returning with the excitement, suspense and heart we were used to from last fall, but also at sidelining some of my worries that the idea of season one was so good that the writers might not be able to re-imagine the magic a second time around.
* Homeland was the first show since Cagney & Lacey in 1985 to win four out the big five drama awards (Garnering series, actor, actress and writing, but failing to earn directing honors). There have been a lot of great series over the last 25 years or so that failed to accomplish what Homeland did at last Sunday's Emmys.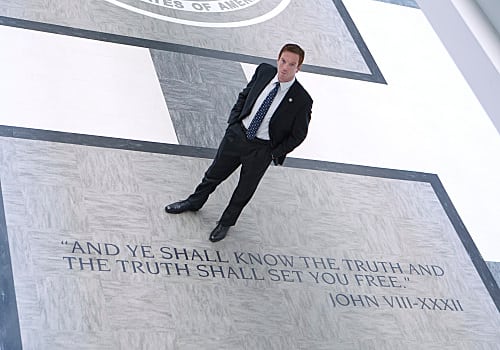 The season premiere wasn't in-your-face impressive in the way most pilots have to be in order to grab our attentions. Rather, it dropped us back into this world with characters that we grew to know, love and/or hate last season. Most of them were in new situations, but because all of them were strongly written and acted, everything felt very familiar.
Due to her condition, Carrie seemed to be somewhere in between the ace CIA agent she was to start the first season, and the crazy, fired,and locked-up agent she was by the end of the year.
One of the questions I had for the future of this program was "how will they keep Carrie involved after everything that went down at the end of last season?" The answer - she has made so many great contacts and relationships on the job over the years that the CIA will need to use her at length before anyone realizes she was right about Brody - was more than acceptable.
Moreover, I will never tire of watching Claire Danes at work. Whether it be freaking out over the very thought of returning to the field, having trouble remembering her cover because she's been out of the game and/or the electric shock therapy, or stepping up to the plate and knocking out her tail with that disguise and mirror trick, Danes plays Carrie Mathison with such complexity it is hard to not be on the edge of your seat.
Speaking of edge-sitting, ladies and gentlemen, Mr. Damian Lewis is back! Not to be outdone by Danes at the Emmys, or on the screen, Lewis was admirable yet again in the return of Homeland. His ability to portray a man who continues to commit acts most of us would never dream of, and yet still have us rooting for him to succeed, is beyond commendable.
Why I was silently cheering for Brody to get those locations out of Estes' safe, and clean up the desk before getting caught is beyond me...but I was. Further, the direction in a scene like that should not go unnoticed. They took such a simple thing, and turned it into the most important moment of our lives as we waited for that door to open and for our man Brody to be caught red-handed.
Lost in the shuffle of all the excitement should not be the fact that Brody is still very much involved with Nazir. His deep seeded love for Issa is a crucial factor in that, and Nazir is using that to his advantage. That, combined with his new religious beliefs, make everything that much more complicated when he screams honestly, "I am not a terrorist!"
I love that he admitted his religious beliefs to Jessica after Dana blurted them out at school. A worse show would have dragged that family secret out for seasons upon seasons, but it seems Homeland has figured out a good sense of pacing. His truths need to come out so that his bigger secrets can stay dormant.
And as great as everything Danes and Lewis did in this season premiere was, my favorite part might have been the difference between Jessica and Dana's reactions to the Qur'an business. Yeah, I know Dana has known about it for a while, but still, seeing her help her father bury the book in the back yard was pretty powerful stuff.
Jessica throwing a fit was equally as haunting, especially when she started mentioning Carrie. I hope she continues putting some pieces together. That might be a nice little story line for Morena Baccarin this season.
"The Smile" was very satisfying, both as an episode in and of itself, and as the beginning of a season. It is already a season of promise. Coming off of the tremendous first year Homeland enjoyed, that's saying something.
What did you all think of the premiere of Homeland's second season?  What was your favorite moment?  Are you excited to have these characters back in your lives?  And is Brody actually going to end up as Vice President of the United States?
Dan Forcella is a TV Fanatic Staff Writer. Follow him on Twitter.