American Horror Story Review: Baby, My Baby

Carla Day at .
Evil comes from somewhere, right? Are some killers born, while others become that way due to their upbringing? It's an intriguing discussion of nature versus nurture. Or, perhaps, lack of nurture would be more fitting.
In "The Origins of Monstrosity," we find out that both are most likely true with Little Jenny and Oliver supporting the two differing cases. We can't forget the third option of evil: being possessed by the devil. I'm looking at you, Sister Mary Eunice.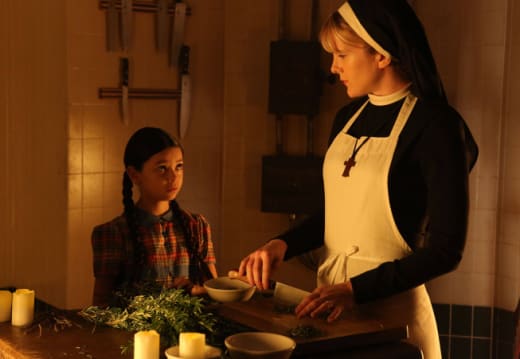 Now, that we know the truth about Dr. Thredson, I think he should definitely go by his first name. So, Oliver it is. We learned that Oliver was abandoned by his mother and grew up in an orphanage. While his becoming Bloody Face is much more complicated, his disgust at the conditions of Briarcliff make much more sense now. Oliver's self-awareness about his situation was unexpected. He knows what he is doing is on the crazy side, but at the same time he understands his emotional drive and need to do it.
The orphanage discouraged any form of touching for the exact reason that people (and monkeys) need it. Oliver never felt affection from another person. As he made the transition from a cadaver to killing and skinning women, can he make the transition to human touch from a live woman? Can Lana be used to cure him? It's sick to consider, but Lana quickly realized that in order to survive she needed to create a physical and emotional bond with him. 
Oliver needs her to be his substitute mother. If she fails him, she will end up as another layer of Bloody Face. 
In the present day, is Oliver Bloody Face? The voice on the phone to the cops certainly sounded like Oliver, but this is American Horror Story: Asylum. It could just as easily be a son of his or perhaps even a disciple who learned the voice. Kit, maybe? That's a reveal I'm looking forward to playing out. 
Back in the past, we found out more about how Dr. Arden got involved at the institution. He was there before the church bought Briarcliff and the Monsignor kept him around. Dr. Arden definitely has the goods on the Monsignor. Dr. Arden will be able to continue his grotesque and torturous experiments to make a better human. The only hope was that Sister Jude would prove Dr. Arden's true identity and force him out. With the Nazi hunter dead and Sister Mary Eunice in possession of the evidence, there's not much she can do.
How will Sister Jude keep herself at Briarcliff? If Sister Mary Eunice really wants her to remain there, she could use blackmail. That's my only guess at this point. The relationship between Dr. Arden and Sister Mary Eunice gets creepier every week. How long before the devil in her seduces him? I expect that it will be both disgusting and riveting to watch play out. She said that if he trusted her him "with his entire soul" everything would work out. Does she want to possess him, perhaps? 
Briarcliff is filled with death. Dr. Arden, the Monsignor, Sister Mary Eunice, and Sister Jude are all killers. The level of their complicity in the killings varies, but they all know what it's like to take a life. Who will be next to join the killing club?
Odds and Ends
Oliver: Nutmeg makes all the difference in the world. | permalink 
Oliver's breakfast for Lana was all kinds of creepy.  
Shelley has finally been put out of her misery. Was the Monsignor's action due to compassion for her? To protect himself and Briarcliff? Or, perhaps a bit of both?
Jenny scared me almost more than Oliver. Her killings were personal and contrived. The imagery of her keeping the hair, like Oliver keeps the skin was disturbing. So young and so corrupted.
Mr. Spivey -- Sister Mary Eunice asked him to watch her. Nothing the possessed sister does really surprises me any more..
Seeing someone singing and dancing by themselves would usually be something to be encouraged, but Sister Mary Eunice makes the behavior wickedly engrossing to watch.
Missed Kit. I hope he gets out of prison somehow. His call to Dr. Thredson was very telling for both characters. Kit does believe his wife is still alive, while Thredson believes Kit is delusional. Also, Oliver is very sensitive about being called a liar.
Carla Day is a staff writer for TV Fanatic. Follow her on Twitter and on Google+.