CSI Review: The Seattle Connection
Jim Garner at .
The first mystery we got upon meeting Julie Finlay was this: What happened in Seattle that made her stop working for DB? 
This week, "CSI on Fire" answered that question, while providing a wealth of information about the newest team member. 
While the biggest part of me is happy to finally know why Fin left Seattle and what the case was that resulted in her leaving, a small part feels cheated that the show resolved the entire case in one episode. 
Don't get me wrong, I glad that they didn't pull a "Nate Haskell" and drag the story out way longer than it needed to be, but at the same time, Cooley (Dylan Walsh) was so much fun to watch facing off against Fin, I wouldn't have minded a two-episode arc.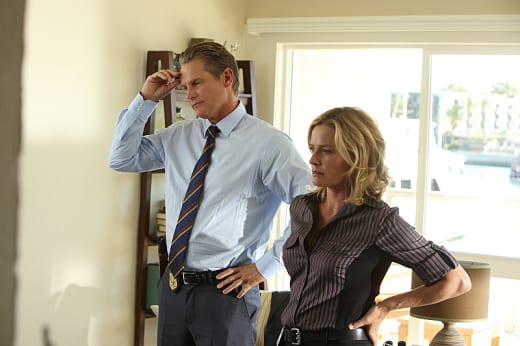 Of course, I can't be to disappointed because as a bonus we got to meet Fin's ex-husband Captain Robinson (Brian Van Holt), which completely explains her attraction to Detective Moreno. Apparently Fin has a soft spot for a man with a badge and a sexy smile. 
Meeting Robinson does make me wonder how bad things got two years ago before she resigned. As she pointed out, it cost her, her job, her marriage and her life there. She actually moved from one of the wettest areas of the U.S. to one of the driest. 
Then again, maybe this isn't the end of her background; hopefully we will learn a bit more about what she was like before she crashed and burned in Seattle. It would allow us to see her interacting with Cooley again. 
Even if we don't get anymore flash backs on her past, I'm very interested in the future. I can't wait to see how Elisabeth Shue grows Fin now that the boat anchor that was the Janet Warren case is no longer around her neck.
In the end, I'm giving it 4.5 trips to Seattle for a well-developed back story and effective telling. What do you think? Did we learn too much about Fin in one episode or were you thrilled with the amount we learned? 
Jim G. is a TV Fanatic Staff Writer. Follow him on Twitter.