Dexter took viewers to school on the appropriately-named "Chemistry," as everyone's favorite serial killer found himself unable to resist the dark and confounding Hannah McKay.
He was simply drawn to her understanding of him, to her acceptance of his killing, to her casual ability to do that same deed herself.
Two lost souls who subtract humans from this world make a great addition to each other's lives, Hannah said at one point, reverting to some basic calculus. But the interesting hour concluded with a simple physics lesson for Dexter: What goes up must come crashing down.
Deb has ordered her brother to do what he does with the woman lying next to him in bed. It's another terrific twist in what's been a great season.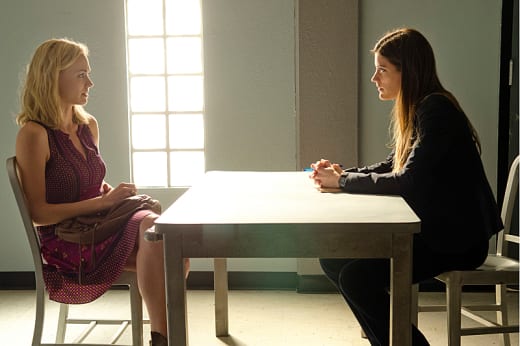 Deb's reaction to her brother's Passenger has been thrilling to watch. At first she was horrified. Then she tried to help. Then it was a modified form of acceptance, as long as she had nothing to do with his rituals.
And now it's come all the way around to Deb asking Dexter to just be himself, to break out his syringe and his knives and go to town because she's just so frustrated by the blonde femme fatale who will seemingly never get caught.
I buy all of it. Deb isn't any less disgusted now than she was at the outset of Dexter Season 7, but what can she do? Dexter has made it clear he can't change. And it's impossible to not eventually admit there is some merit to his murderous habit. And from Deb's point of view? Of course Hannah is the perfect target.
She's cold, she's calculating, she has no remorse for her actions. And she'll continue to get rid of anyone who in her way. Survival of the fittest? Maybe. Or perhaps just survival of the florist, who merely happens to have knowledge of an ideal way to kill. I doubt Darwin would want a world full of Hannah McKays.
So Deb wants Hannah taken out... only Dexter thinks he may be in love with her.
I loved the callbacks to Lyla (who was drawn to his darkness), Rita (unaware of it) and Lumen (who needed it), juxtaposing them with Hannah, who readily accepts both sides to Dexter. This season has done a fantastic job of bringing up people and issues from the past, from these three women to Deb's questioning of Rita's death and now LaGuerta's search into the Bay Harbor Butcher.
Looking way ahead, with all these seeds being planted, I can legitimately say I have no idea where the series is headed to close out this season and then the final eighth one.
And this is all before we even bring up Isaak, who continues to be played by icy coolness by Ray Stevenson. The character and storyline have been slow-played to perfection, just simmering around the edges of the major developments between Deb, Dexter and Hannah, but he's out there. Lurking, dangerous and desperate for vengeance.
What will Dexter do about Hannah? Should we feel differently about this protagonist now that he's siding with a woman who kills innocents? What kind of happy hour specials will Batista offer at his new restaurant?
All key questions as we move ahead. What did everyone else think of this episode?
Matt Richenthal is the Editor in Chief of TV Fanatic. Follow him on Twitter and on Google+.