It took multiple seasons for Dexter to truly humanize its unorthodox title character.
And only one bar conversation for it to do the same for Isaak Circo.
For the most part, "Argentina" was a relatively slow episode. Astor, Cody and Harrison stopped by; Jamie once again proved she's the greatest nanny of all-time; Batista bought his restaurant. There wasn't a lot of movement on the Hannah McKay front and Deb opened up about her feelings for her brother, easily the most ridiculous and misguided storyline in show history.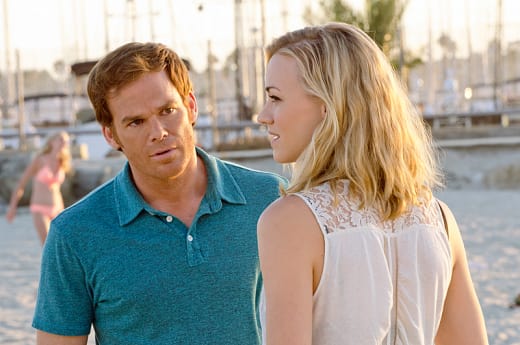 But the hour was saved by the final 10 minutes.
I loved every second of Dexter's conversation with Isaak. It depicted that mob member's vulnerable side, while continuing the Dexter Season 7 theme of outsiders finding comfort in one another. As I've written about for weeks, Dexter is no longer fighting who he is; he's fighting for who he is, and he's now realizing that there are others like him out there.
Granted, one wants him dead.
But the other just wants him, for every side there is: blood spatter analyst, serial killer, father. There are no secrets between Dexter and Hannah, no pretending of any kind. Their relationship is believable and actually very sweet.
The concluding montage, meanwhile, was terrific, as we watched multiple characters stare down their personal demons and questions. Quinn is stuck as a dirty cop, La Guerta may be on to Dexter as the Bay Harbor Butcher (slowing setting up what I imagine will the final season storyline/showdown) and Deb feels more betrayed and alone than ever. This year has been more of a well done character study all around than any previous run of Dexter episodes.
And then there's Dexter himself, somehow the one individual at the moment who feels closer to found than lost. It's a new, welcome position for both him and the series in general.
Is it possible Dexter has truly found his Argentina in Hannah? That they'll live happily ever after together? No, of course not. But I'm intrigued to see how it will all fall apart and where Dexter - and Dexter - will go from there.
Matt Richenthal is the Editor in Chief of TV Fanatic. Follow him on Twitter and on Google+.