I'm just gonna go ahead and say it: Dexter Season 7 may be better than Dexter Season 4.
While the latter featured an iconic performance by John Lithgow as Trinity, the former continues to churn out enthralling episodes week after week, each eschewing the tired concept of Dexter trying to change and instead focusing on this serial killer embracing his true identity.
With Deb unable to accept that, "Do the Wrong Thing" turned Dexter's attention to Hannah McKay, a kindred spirit to whom he can't help but be attracted - and the results were a series of mesmerizing conversations that culminated in... Dexter turning his kill table into a thrill table.
Wow. Did anyone see that coming?!?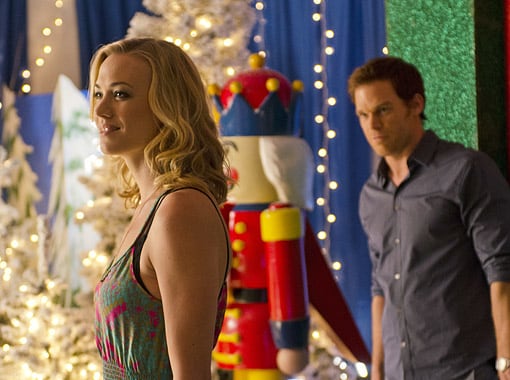 The final scene was as gripping as it gets.
The series had done such a stellar job up until that point of painting its title character as legitimately confused over this mysterious blonde. Yes, she fits his criteria as someone who deserves to die at his hand.
But she's also turned on by death, she clearly walks around with her own Dark Passenger. And with the other woman in his life so disgusted by her sibling's murderous desires, it made sense that Dexter would be unable to resist the connection he and Hannah share. Finally, someone who understands! Who takes an interest in death! Do what you have to do, Hannah told Dexter, a reaction unlike any he's ever heard from a victim lying beneath his blade.
And that he did. He simply had to embrace this like-minded soul. It was a shocking, suspenseful closing few moments. I loved every second of it, sincerely unsure how it would end.
And that was just living in the scene itself. It gets even more exciting to ponder the possibilities ahead: Deb now has her own suspicions regarding Hannah, that Sal Price guy isn't going away, LaGuerta won't drop the Bay Harbor Butcher investigation and there's a deadly serious (and awesomely portrayed) Ukrainian mob boss sitting in prison, aware of Dexter's identity, set on picking up where these two left off when he gets out.
The walls are closing in on Dexter from every conceivable point of view. He can no longer turn to Deb. Will he and Hannah go off on their own killing spree? How much will he open up to someone who has broken Harry's Code, someone who has gone around and killed innocents? Dexter may think he and Hannah are alike, but can he really trust her?
Just a great, great episode all around. Quinn's storyline is even intriguing and, well, Batista may retire and purchase a restaurant. Okay, that can't all be winners.
But from Deb and Dexter's disintegrating relationship to Dexter's new and dangerous bond with Hannah, the show doesn't need for a Trinity-like Big Bad. Dexter is providing all the chills, thrills, doom, gloom and, this week, va-va voom all on his own.
Matt Richenthal is the Editor in Chief of TV Fanatic. Follow him on Twitter and on Google+.