For years, viewers have tuned in to Dexter for blood, violence, gore and some seriously dark humor.
But love? Romance? Sentiment? Until Dexter Season 7, these have not exactly been emotions associated with the long-running Showtime hit.
Indeed, we've seen plenty of episodes conclude with a body laid bare on a table. But "Helter Skelter" ended with Dexter laying his heart bare on a hospital bed, truly opening up to Hannah for the first time, and the scene was legitimately moving.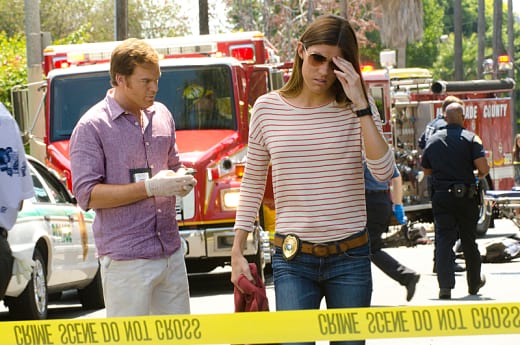 When the series exposed Dexter's Dark Passenger to Deb at the conclusion of last season, I expected plenty of suspense and controversy to result from the revelation. And we have enjoyed spurts of each here and there.
But the past few episodes have mostly focused on the emotional fallout from this secret, as Deb (and the outstanding Jennifer Carpenter) wrestle with the one person on whom she could always rely now turning instead to another woman, someone who can understand something about Dexter that Deb never can.
As I've written about numerous times, Deb falling "in love" with her brother was a ludicrous, unnecessary development, thrown in for reasons I'll never comprehend.
Carpenter and her continual breakdowns are at least saving it to a certain extent, however, and her role here served as one of many lessons in love passed along throughout the hour. Deb is disgusted by Dexter's killing habit, she's shocked and hurt by his feelings for Hannah, and yet she's still willing to pull police detail - to break her own code - because she can see how much it means to her step-sibling.
And while Deb made moves counter to her better instincts, Isaak made sure he didn't leave this life without imparting some wisdom to his enemy-turned-cohort. What a tremendous job Dexter has done over the past couple weeks of layering this initially one-dimensional killer.
The Koshka Brotherhood/strip club storyline has served as ideal B-plot fodder, never overshadowing the main arc of Deb and Dexter and Hannah, and then coinciding with it perfectly last Sunday and most notably here, as we delved deeply into Isaak and his relationship with Viktor, a couple conversations being all viewers have needed to actually feel like they know the mob boss and - dare I say it? - feel sorry for him.
That's really been the beauty of Season 7 overall. For a show previously best known for its action and plot turns, this season has been all about heartfelt conversations. Between Deb and Dexter. Dexter and Hannah. Dexter and Isaak. Guts continue to be spilled each week, but this time in the figurative sense.
And hanging over it all is La Guerta, now receiving assistance in the Bay Harbor Butcher investigation. We have to believe this will serve as the crux of the final season. Again, major props to the writers for slow-playing this storyline, for keeping it in the background and dropping just enough hits and teases for us to wonder where it will go once Dexter is exposed to someone who isn't in love with him.
He might not feel so safe at that point.
Matt Richenthal is the Editor in Chief of TV Fanatic. Follow him on Twitter and on Google+.