Everyone was playing someone during "Big Chicken Dinner," as Marcus' plans to bring the island together for a makeshift Thanksgiving feast ended in up going down in flames.
It started off promising enough. Food, friends, friendly banter with the person you had sex on the beach with the night before. If you thought that Grace and James finally doing the deed would get it out of their system, well, you were dead wrong. The sparks were flying brighter than ever as Grace tried but failed to set things back to normal in this Last Resort quote…
 What happened between us happened. Now we should just go back to the way things were with you being a jackass and me trying to do my job. | permalink
Somehow I just don't think that's going to work. And though Tani doesn't deserve to be the collateral damage between these two star crossed lovers, it wouldn't surprise me if she bailed on island life altogether. It had been her plan to take her brother to Australia when he was of age. There's no reason she couldn't head out on her own.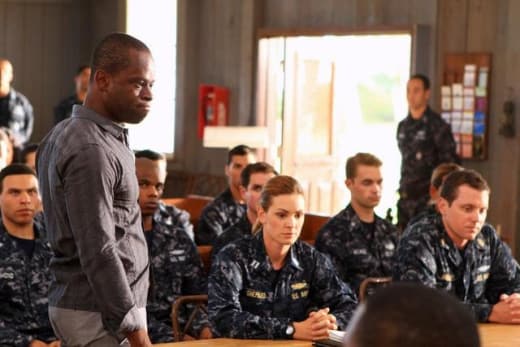 As if things weren't tense enough between the islanders and the crew, a claim of rape heightened the tension even more. I had no doubt that Anders was guilty, although that may be because I've seen the actor play the bad guy on so many other shows. He's very convincing.
When Grace shared her story about being raped at the academy, it felt like overkill. I know it was meant to give us more insight into her character and the sacrifices she's made for her military career, but that entire subplot felt unnecessary.
Still, I wouldn't have minded seeing Anders get his 100 lashes. He may get them yet since he wasn't smart enough to take Marcus' offer of protective custody. I can't imagine he'll make it off the island alive.
And with Anders being the only guy who can run the Nuke room, Marcus started tutoring Cortez to take over the job. Fantastic. Nothing like having the ship's traitor be the one in charge of it's most powerful weapon. I'm sure this will come back to bite Marcus sometime in the near future.
Sam killing Booth was no surprise. There was no way Sam was going to get the Special Forces vet to turn. Sam's just lucky he didn't get tossed off that cliff.
Some of my favorite scenes of the night were between Christine and Kylie as they analyzed Paul.  hristine may have felt badly for the lonely, estranged father but Kylie was quick to point out that every time he's seen Christine, he's made a choice to use her. And he's got no idea that she's playing the game just as well as he is as Kylie summed up the strategy nicely…
 That kiss the other night probably lodged itself right in the middle of his needy little heart where it's growing. | permalink
Christine's performance about leaving her husband because of that kiss was pretty darn convincing. Paul's got no idea what he's up against.
But the biggest question of the night was Where the Hell is the COB?!? The last we saw him he had been injected with drugs and had his feet set on fire and yet there was no mention of him here. As much as I love the suspense, I can't believe Last Resort going to make us wait another week to find out his fate.
C. Orlando is a TV Fanatic Staff Writer. Follow her on Twitter.