The Big Bang Theory Review: A Chicken Pecking for Corn

Carla Day at .
This week's installment of The Big Bang Theory, "The 43rd Peculiarity," wasn't bad - but it wasn't particularly high on the funny chart either.
I'm trying to figure out why, but I can't quite put a finger on it other than there weren't as many great quips as usual. Bernadette and Amy weren't seen, but that was okay by me. In the end, it was an enjoyable episode built around two specific scenes.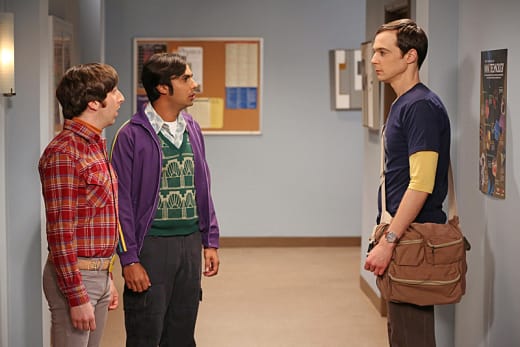 Weeks after Penny wondered if Leonard was for her, in the midst of an argument, she threw the "I love you" out into the world. It was the perfect moment for her to recognize and acknowledge her feels for Leonard. While Leonard probably shouldn't have been jealous of the British classmate, it was only natural for him to feel that way. His relationship with Penny this time around was never clearly defined.
Penny: Leonard, why do you always do this? Listen to me, you are the one that I'm with. You know that I love you. So, will you please relax, because you are driving me crazy. | permalink
Their parting afterwards to keep from crying was the perfect response. I don't know about you, but when she said those three magic words, my eyes welled up. While Leonard was worrying about Penny, she should still be worrying about Sheldon's assistant. She is hot for Leonard! He may not know it, but eventually she will make an unmistakable move. How will he handle having a beautiful, smart woman throwing herself at him? Penny's never even done that!
The other main storyline surrounded Sheldon's mysterious disappearance each day at exactly 2:45 p.m. That he kept to a particular schedule was not odd, but where did he go? And why? Raj and Howard couldn't let it go. It wasn't clear why now all of a sudden they noticed it or cared, but oh well. It made for an intriguing mystery with a brilliant and funny payoff.
When Howard and Raj broke into the storage room, they found nothing but the number "43" on the chalk board and went into investigative mode. What did the "43" mean? 
The real payoff came from their next attempt to spy on Sheldon. They put a camera in the room and witnessed a miracle. Sheldon was creating a wormhold to look into other worlds. When he came out of the black hole with that creepy creature thing on his face, I laughed so hard. It was shocking and hilarious! What made it even better was that he was standing behind them watching their reactions. Sheldon played a trick!
It's not often Sheldon gets into his trick mode, but he did here and it worked. He freaked them out and it made for a classic Sheldon moment.
After all Howard and Raj went through to find out what Sheldon was up to, it ended up being something quite simple. Hacky sack! Sheldon liked to chill out alone for a period each afternoon and try to beat his record of 43.
While this wasn't the overall funniest episode of The Big Bang Theory, it had two moments that will be forever remembered. That made the episode well worth watching! Plus, there was this line and Sheldon's chicken movement!
Sheldon: The mind's a mysterious thing, Leonard. He could be having the time of his life, while she thinks she's a chicken pecking for corn. | permalink
What did you think of Sheldon's fake out for Howard and Raj? Hilarious, right? And hacky sack? What about Penny's "I love you?" Glad she finally said it and in that way?
TBBT BONUS: You must watch this video...
Carla Day is a staff writer for TV Fanatic. Follow her on Twitter and on Google+.