I would never attempt to scandalize you, gentle reader, by claiming that The League is the new Seinfeld. Sure, The League creator Jeff Schaffer was a writer on that certain Show About Nothing, and sure, both shows share a certain obsession with the painfully awkward.
But The League is its own unique, pervy beast. Usually.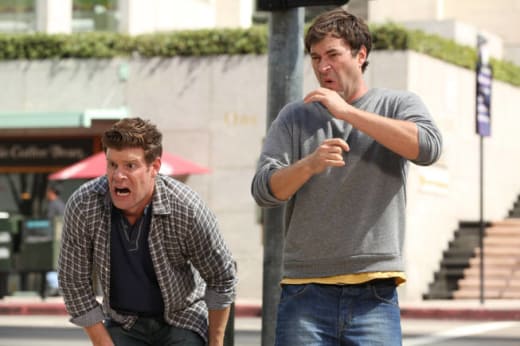 And yet, when Curb Your Enthusiasm's J.B. Smoove rolled down a hill in an out-of-control wheelchair at the end of "The Vapora Sport" - in a shot almost exactly re-creating the iconic out-of-control wheelchair ride at the end of the Seinfeld episode "The Handicap Spot" - well, I couldn't help but wonder: is The League the Seinfeld of our post-Family Guy, gross-out comedy era?
"The Vapora Sport" represented a return to form for the show after the disappointing "The Tailgate." This was the first episode of this season to focus primarily on Pete, and it was a very nice reminder that Mark Duplass can still be the driving force behind this show... when the script lets him. Though Pete's sneaker-based feud with Smoove's wheelchair-bound jerk was slight, it allowed his most compelling character trait - a kind of peppy amorality - to be on full display.
Taco yet again scored all the best The League quotes without having any real plot arc to speak of. I mean, I don't know, is teaching a dog how to smell penises a plot arc. I think I might have been absent the day we discussed that in journalism school.
Smoove's Wheelchair Guy and Ruxin's blind client did seem ripped straight from the Seinfeld pantheon of Strange Disabled People. But Kevin and Jenny's racist player piano, as well as Dicko/ Ditka, the Sex-Smelling Dog, were far more satisfying subplots, each of which showed off The League's real strength - it's a show that takes everything one step too far, and yet, somehow never quite devolves into a Seth MacFarlane-style frat humor gag-fest.
If I were to argue that The League were the Seinfeld of our era, it would be not because of its occasional rip from the Seinfeld playbook, but because it has created an equivalent parade of neuroses for our far dirtier, basic cable times.
Like Seinfeld, The League is a show for adults, not Adult Swim-worshipping teens, who think that any joke about gonads is roughly as hilarious as the entirety of Eddie Murphy Delirious, but for actual grown-ups, who can enjoy the sophisticated absurdity inherent in a foul sexual act between two dogs.
Am I suggesting that a Show Mostly About Masturbation Jokes is our Show About Nothing? Well, yes, now that you mention it, yes I am. If you don't like it, write your congressman!
Is The League the new Seinfeld? Or am I completely deranged?