If you're a comedy nerd with too much time on your hands (like, I don't know, some people who are writing this review), your first knowledge of "The Tailgate" came this past September, when news regarding a supposed on-set physical altercation between actors Ken Marino and Nick Kroll leaked.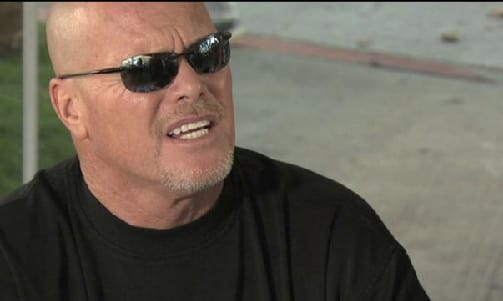 Did Marino actually deck Kroll, as tweets from all of the show's principals claimed? Or was it all just another Twitter hoax, like those ones about Miley Cyrus's death or Selena Gomez's womb that bubble up every few months?
I'm leaning toward the latter, personally, which is a shame - because the fake fight between Kroll and Marino is a lot more compelling than anything that actually happened in this episode.
"The Tailgate" was written by Nick "Ruxin" Kroll and Paul "Andre" Scheer, which shouldn't account for its weakness; Kroll and Scheer have penned a number of classic episodes for this show, including last season's phenomenal "The Out of Towner."
But unlike that particular episode, which tested both the limits of friendship and the boundaries of what you're allowed to show on basic cable, "The Tailgate" felt uninspired.
Though there were a few fun moments while Ike Barinholtz's "The Body" and Ken Marino's "The Seed" terrorized the gang like the high school bullies they once were, for the most part, even their antics were a bit dull (60-foot-invisible-dick jokes aside).
Kevin's game-saving spew was telegraphed from miles away before it happened, and Ruxin and Pete's running gag about the MacArthur brothers acting like gorillas in a nature documentary belonged on a much lesser show.
Most bothersome, though, was Jenny's defection to the "Vatos Locos," as well as her sudden obsession with being treated like a "lady." Though Jenny has made the occasional rumbling over the course of the show about being a classy lassy, most of the time, she's just someone who wants to make sure her son's foreskin is a "Brad Pitt," not a "Stephen Tobolowsky." Dame Judi Dench, she's not. So, her sudden offense at being called "dude" didn't really feel consistent.
But it wasn't all weak. I swear that I am not lobbying for a Taco spin-off  (though if there was one, it could be called "Taco Time" and it could be amazing!), but Taco owned all the best The League quotes tonight, particularly with a John Madden/Joel Madden bit that I'm still chuckling over. Taco MacArthur is a comedy spice best used in moderation, but his antics are also one of the most consistently rewarding parts of watching this show.
Yes, this episode wasn't up to the show's usual high (or if you prefer, low) standards. It happens to even the best of us ("us" in this sentence meaning "critically-acclaimed, long-running cable comedy shows"). Like your parents used to say, "I'm not mad at you, I'm just disappointed.
Now go back to stealing Kristin Cavallari's breast milk so that we can get this show back to normal!"
What? Your parents didn't say that? Um, yeah, neither did mine... anyway, despite this episode's missteps, I'm fully confident that the show will be back in fighting shape next week, as an uneven season that has still had more hits than misses rolls on.