If last week's episode showed us how low The League's gang could go, "Judge MacArthur" proved how easily they can go back to being relatively regular, fairly relatable (and occasionally lice-covered) guys.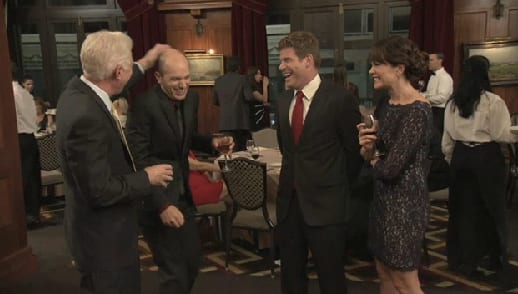 The brilliant surprise at the heart of this week's installment was a de-fanged Rodney Ruxin. Ruxin has long been The League's resident Lex Luthor figure, wandering around casually, planning the downfall of others. He, like Taco or Rafi, is not a character who has been developed with too much emotional heft. He's a dick, and that's the end of it.
But seeing the depths that Ruxin plunges into after doing poorly on the Wonderlic intelligence test - leading him to a full-tilt, reverse-Flowers for Algernon intellectual breakdown - it's hard not to empathize with the guy, or to see all his trouble-making as the hollow gestures of an immature, insecure, grown-up nerd. Dumb Ruxin seemed far more hurt and helpless than last season's Stroke Ruxin even. Am I developing Sympathy for the Ruxin?
Pete and Andre returned to center stage this week, and immediately re-affirmed why they're the stars of this show (Pete's "Scarfather" bit had me on the floor). Where have those guys been all season? Oh, off shooting the dozens of other movies and TV shows that Mark Duplass and Paul Scheer are involved in? Probably. But it was good to have them back. They also delivered some excellent The League quotes, as usual.
More Pete and Andre meant less screen time for Taco, but he still had a great turn bossing around Dumb Ruxin (and his call-back to "Dr. Andre NoDick" was an episode highlight).
Part of the reason that The League works so well is that the writers understand emotional vulnerability's place in comedy. The show always steers away from predictable schmaltz - Jenny's recent childbirth scene was probably the least sentimental one to ever air on TV - but this week's episode was a reminder that at the heart of all the pranking and messing around, these guys are best friends from high school who do actually care about each other.
In fact, "Judge MacArthur" might actually be a good explanation as to why the gang tend to be so evil to each other. When they try to help each other, things actually go just as bad (if not worse) as they do when they are actively trying to thwart each other.
I know I reference Seinfeld and It's Always Sunny in Philadelphia often in these reviews, but it is hard not to; those two shows created The League's DNA. But while Seinfeld and company mostly screw with outsiders, and the Always Sunny crew wreck the lives of anyone within arm's reach (including their own), the gang at The League only have a self-destruct button. They only ever hurt themselves.
And maybe that's why, unlike those other two shows, they can pump out the occasional episode like "Judge MacArthur," one that inspires pity, sympathy, and - why the hell not  - a little bit of empathy for the whole demented gang.
What did you think of this week's episode? Did you like Dumb Ruxin? Or do you just want Evil Ruxin back?