American Horror Story Review: A Briarcliff Christmas

Carla Day at .
Christmas at Briarcliff was definitely an "Unholy Night" thanks to the evil-possessed soul of Sister Mary Eunice.
Instead of focusing on the scary, the story has shifted into a battle between good and evil with the sides becoming more clearly developed. Sister Mary Eunice versus Sister Jude. And, Dr. Thredson/Bloody Face versus Lana and Kit. Which side will the aliens end up on?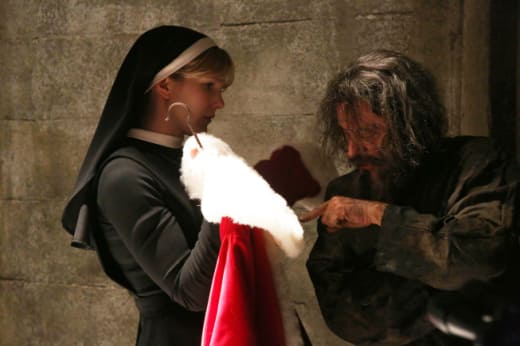 The evil force within Sister Mary Eunice is no longer operating in the shadows of Briarcliff, she is now acting out in the open and has gained Dr. Arden as an ally of sorts. When he went to see Sister Jude and sought her assistance to free the innocent Sister Mary Eunice, I bought into his changed man act. He had always been drawn to the young nun's pure and innocent soul and repudiated the new evil, ruby-loving nun. 
What a shock to find out he only brought Sister Jude back to Briarcliff so that Sister Mary Eunice could kill her. Wow. Dr. Arden continues to be a mystery. What did the evil sister promise him to gain his support? Perhaps, she had Frank killed to protect Dr. Arden's creature secret and that was enough to turn him. Whatever she did, it worked. He is on her side.
She also had the support of a killer Santa, who was locked away for years by Sister Jude. He was the perfect proxy to kill Sister Jude, unfortunately, his desire for revenge got in the way. Instead of just killing her, he tried to punish her first which provided the opportunity to take him out first. Sister Jude has blood on her hands for real this time, but it was a righteous kill. Sister Jude won this round, but the war is far from over.
Sister Mary Eunice wasn't the only evil at Briarcliff, Dr. Thredson returned in search of Lana. He got there just in time to stop her from calling the police and turning him in as Bloody Face. Just as Sister Jude survived her attack, so did Lana. She was able to turn the tables on Thredson with Kit's help. The doctor is now their prisoner in Briarcliff. It was nice to see Lana and Kit team up together; they are going to be a formidable pair. She gave him hope that his innocence could be proven.
When Kit was drugged up he dreamed of a pregnant Alma, but was it a dream? Or, was his conscientiousness transported to wherever the aliens are keeping her? Grace also saw a pregnant Alma in her vision. The aliens are perhaps the most confusing aspect of American Horror Story: Asylum. Since we know that Bloody Face is a killer, how do the aliens fit into the story? 
Will Dr. Arden become a believer of Kit's story now that he has seen Grace's body taken in a glow of light? I'm not so sure. I suspect that Dr. Arden will keep that incident to himself for now for fear of being committed himself if he revealed it. 
Christmas at Briarcliff permeated with evil, but in the end good triumphed despite the blood and death. Sister Jude is still alive, while Lana and Kit had a victory of their own. But, with American Horror Story change comes fast and in unexpected ways.
Odds and Ends
Lana's pregnant! Her stomach sickness further supports that she will bear Thredson's child. Will the baby be the future Bloody Face? Dylan McDermott, perhaps?
Who knew that Rudolph the Red-Nosed Reindeer was controversial show when it first aired? I'm sure some people did, but I never would have guessed.
Killer Santa: There is no God, but there is a Santa Claus! | permalink
Ian McShane was brilliant as the killer Santa. He was frightening, crazy, and a believable chomping into a person. Gross, but believable. 
Is the Monsignor really so naive that he brought a glass star for the tree to an insane asylum? It never looked like a beautiful star, rather it was immediately a dangerous weapon. It was just a question of who would use it.
Did you enjoy Christmas at Briarcliff? Is there any hope of riding Sister Mary Eunice of the evil spirit within her? Is Lana pregnant? Any thoughts on the aliens?
Carla Day is a staff writer for TV Fanatic. Follow her on Twitter and on Google+.