On "The Long Fuse" a bomb wasn't the only thing to explode. So did the sex chatter between Jonny Lee Miller and guest star Lisa Edelstein!
In this edition of the Elementary Round Table, Kate Brooks and Jim Garner of TV Fanatic - along with Amanda from Grizzlybomb.com and Brian from Geek Magazine - respond to this exchange and many, many more...
-------------------------------------------
What was your favorite scene from the episode?
Kate: Definitely the sex talk between Sherlock and Heather. I was laughing pretty hard.
Jim: I enjoyed watching Sherlock debate on tearing open the wall at the house. He knew there was a body on the other side, but he also knew he should wait. Of course, he's not known for patience.
Brian: Much like Jim, I liked the scene where he ripped open the wall, and then had to explain it to Watson outside. Pretty good payoff, even though we knew what he did already.
Amanda: Agreed, the scene with them standing in the driveway talking about the dead body in the wall was great. If for no other reason than Lucy Liu's "oh, we aren't really discussing anything like your husband's body decomposing in the wall" expressions.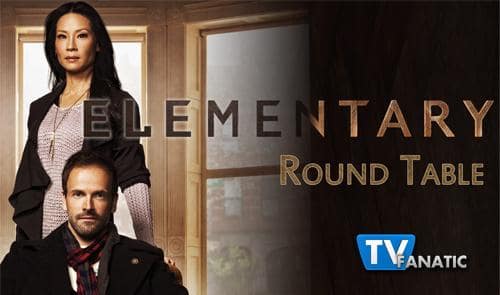 How did you like Alfredo, the person not the food?
Kate: I LOVED Alfredo and I loved that he turned out to be a very kind man who was very keen on helping Sherlock.
Jim: I loved, loved, loved, that he turned out to be intelligent and well-versed in the program. Him showing up to taunt Sherlock with a puzzle at the end was great!
Brian: What's not to like unless you're a racist. Alfredo was portrayed to the audience as profoundly likable, and comes off as wise and experienced, so really there is no reason not to like him. Plus the fact that it's a black guy with a totally Italian name makes me think of Yaphet Kotto on Homicide: Life on the Streets, which was one of the best shows ever.
Amanda: I really liked him. When he was talking about never being a sponsor before but he really wanted to- pull at the ol' heartstrings. I hope they keep him around because he was a nice character to watch.
Do you think Sherlock doesn't want Watson to go and vise versa?
Kate: I don't think he wants her to go and I am unsure about Watson. I feel she'll leave and will realize she misses it.
Jim: He's grown attached to her more than he will admit and it's confusing him. I'm not convinced she's attached to Sherlock, but I'm willing to bet she gets there.
Brian: That is clearly what they are portraying with him, and she no doubt wants to stay as well, but is trying to be professional. They just haven't done a great job making me care if she stays or not. She just seems like a totally perliferary character with whom I hold no attachment.
Amanda: I think he's grown accustomed to her face. Actually I have no idea. He doesn't want her to go because that's what the story of Sherlock and Watson requires; most of what we've seen of Watson on the show is nagging. Part of her likes him because she's intrigued by him, but I really hope they work on their relationship as the Elementary Season 1 goes on.
Did you guess the killer?
Kate: I did but I thought I was wrong!
Jim: I didn't. I was betting on the assistant the entire time and I was actually surprised during the reveal.
Brian: Yes. As soon as they showed her. There was just no reason for her intro scene if she wasn't involved.
Amanda: I did, but I then convinced myself it was the wife or the other guy because I really didn't want Edelstein to be the killer.
What are you predictions for Watson's suppose departure?
Kate: Sherlock will find a way to keep her around. He is at the point where he is too used to her being around and is actually somewhat comfortable with her there that I think it'll be hard for him to let her go. Any means necessary.
Jim: I wonder if Sherlock would fall off the wagon just to keep Watson around. It sounds drastic, but it's also the quickest path to the resolution he wants.
Brian: Sherlock using to keep Watson around sounds too desperate, but I wouldn't put it past them to go that route as it would immediately place an emphasis on  Watson's importance that has not been previously established.
Amanda: I think Sherlock will wait until the last moment and then appeal to her to stick around and help him out. He does care for people but is rather stubborn and won't just come out and ask her to stay. There will be dancing around the mulberry bush for sure.