There were plenty of offers on the table for assistance on this week's Last Resort, but they all had strings attached. I don't think anyone was getting to Bali to see the "Blue Water."
Didn't that sound like a lovely day dream? After Christine's abduction in "Cinderella Liberty" you'd have thought she and Sam would have earned a lounge in the infinity pool at some Bali resort. Unfortunately, a dream was all it was.
The rescue of Christine felt like it was on fast forward, but with only a three episodes left in the series, I suppose it had to be that way. Sam and James jumped from the island to the Philippines in record time and from there Christine's actual rescue happened so quickly that if you blinked you might have missed it.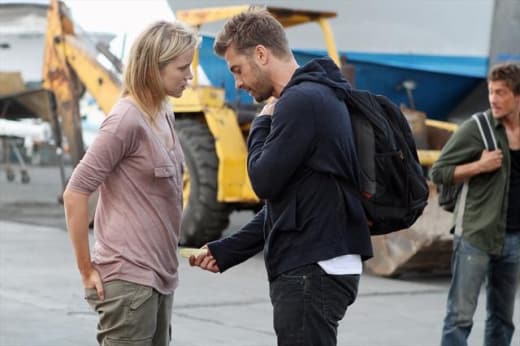 But that was okay with me. What I really wanted to see was the reunion between this couple. Sam spun a story about the two of them sailing off into the sunset to start a new life with a little sailor in tow. Let's face it. We all knew that was never going to happen. At least not in the forseeable future.
A $5 million bounty on Sam's head sealed their fate. I just wondered how he could be sure she'd be safe headed to Geneva. With that much money on the line, who could Sam trust?
No one is the simple answer. I never believed Christine was really dead but I didn't think Wes would end up having her duct taped in his bathroom. I don't know what his plan is but I'm sure it's not good. Poor Christine just can't catch a break.
Back on the island, we'll have to see if Sophie will be there to help a grieving Sam. Oh, what a mess that will be.
The COB finally returned but it was difficult to tell exactly how long he'd been gone. He's lying to everyone and barely holding it together. The COB's a tough man but how long will it be before he breaks, especially since Julian knows his weakness and will happily exploit it?
Opening up the prison was something I never saw coming, but it made more sense than trying to hold his own crew hostage given the lack of resources. The lashings were an interesting compromise, both brutal and more humane in an odd way. I liked that we never actually saw the lashings take place. We only had to see the blood on the ends of the ropes to know what had occurred.
Chaplin's acceptance of China's help will have long lasting consequences. With a few crates full of food and supplies China is able to play the role of humanitarian while giving the USA a proverbial black eye. It solves Marcus' immediate problems but will it make his long term goal even more elusive.
My favorite exchange of the night again went to Kylie as she told Hopper in this Last Resort quote…
Hopper: Who is this guy?
Kylie: Someone I'd like you to kill.
Hopper: Seriously? | permalink
The tone of Hopper's voice said he'd probably do it if she'd said yes.
So will Kylie save the day? Will Sam ever realize that his wife is still alive and what the heck is going to happen to Christine? With three episodes remaining, can Marcus ever clear their names and get his crew home.
C. Orlando is a TV Fanatic Staff Writer. Follow her on Twitter.