Friends. Sometimes they love us. Sometimes they hurt us. Sometimes they lift us up in our hour of sorrow, and other times, they take advantage of us after we have had outpatient butt surgery. These are the eternal issues that The League examined during its epic double-episode tonight.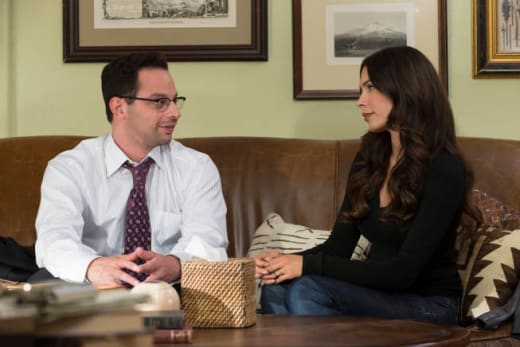 I know that "The Anchor Baby" and "Bro-Lo El Cordero" were doubled up just so the network could air all of this show's episodes before mid-season, but they made a lot of sense when viewed together. In these combined 40-odd minutes, the real issue at the heart of The League--when everyone you love is a childish, self-involved maniac, who can you really trust?--came to a fever pitch, with a surprising moment of catharsis (followed by yet another let-down) for poor Dr. Andre.
"The Anchor Baby" let Ruxin, who's been a bit on the back burner this season, take glorious center stage as he obsessed over Sofia, scheming to keep his wife from leaving him while still being too bored by her to even spend a long afternoon in her company. I know what I described in the last sentence sounds like the plot of a five hour-long Italian opera/ Edith Wharton novel, but Ruxin's panicked mania was hilarious--he got in some of his best The League quotes of the season as he mulled over the state of Sofia's pubic hair/ commitment to their marriage. Good to have you back in action, Rodney.
Taco, meanwhile, continued marching down the road to Kramertown. As previously noted, The League is written by a former Seinfeld scribe, and while not every episode reflects this, Taco's evolution certainly does. Over the last season or so, Taco has gone from illiterate stoner goof-off to total hipster doofus, embracing wild scheme after wild scheme with a matter-of-factness that would do the K-Man himself proud. While he was once a kind of semi-interesting Bill & Ted type, Taco has now finally bloomed into someone not just dumb, but delightfully deranged. He's a New Gross Pervert Kramer for our New Gross Pervert America. U-S-A! U-S-A?
The strongest thread uniting the two episodes was Andre. In "The Anchor Baby," Andre tried in vain to get his friends to respect him or listen to his problems, while they giggled helplessly about his wet noodle disorder. But in "Bro-Lo El Cordero," for the first time, Andre came close achieving revenge. Often the sacrificial lamb for the gang, Andre finally did something shitty himself (getting Kevin to agree to a bad trade while he was on anesthesia). Of course, he paid for it--in a glittery suit on the La Lucha Mexican wrestling stage, as all the best disputes are settled--but for one moment, I was glad to see Andre finally getting something over on these guys.
And yes, that was the moment when I knew that reviewing this show had left me hopelessly morally warped, cheering for a man who had just taken advantage of a guy recovering from butt surgery. Pray for my soul.
On a different note, did anyone else think Andre's "inner voice" sounded a lot like the "Crawdad Man"?
Did you like seeing Andre finally strike back at the gang? Or do you prefer a kinder, gentler Andre Nodick?