American Horror Story Review: Happily Ever After?

Carla Day at .
Turns out, "Madness Ends" with a few happily ever afters.
There was a time when it looked like tragedy would befall everyone from Briarcliff, but hope prevailed at least for some. While the evils of Briarcliff were always with them, Lana, Kit and even Jude were able to find happiness.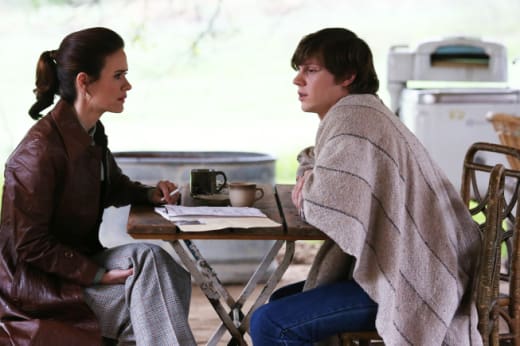 Lana's successful career was both made and continued due to her experience at Briarcliff. The conversation between Lana had with Jude when she first inquired about covering Briarcliff was quite prophetic. 
She was driven to succeed and used the horror of her past and her investigative skills to continually move forward. She got Briarcliff closed down after finding the horrid conditions, she went after Cardinal Howard for his complicity in Dr. Arden's experiments and never forgot about the son that she gave up.
After all the horrors and lies that the former Monsignor was responsible for, he took the easy, but sinful way out. He killed himself rather than face the consequences for his actions. Even though he was long gone from Briarcliff, the institution ultimately killed him.
During the interview, Lana decided to come clean about her decision to give up her son. Initially, it appeared she wanted to set the record straight and clear her soul, but it was much more than that. She knew that Johnny was there watching and that he was a killer like his father.
Johnny's obsession with his dad and hatred for his mother made less sense after finding out that he did meet her once before. Lana sought him out as a child and showed that she cared in their brief encounter. Why wasn't that enough? The tape!
No child should have to hear such hatred from their mother. That sent Johnny on a murderous path and ultimately to his death. It was a fitting end for Lana to kill her son, just like she took out his father. 
Not all that came from Briarcliff was bad, though, there was happiness to be had as well. Lana had a successful career, found love again and a friendship with Kit. She waited too long to save Jude, but Kit was there to make that right.
After all that Jude did to Kit, it should have been a surprise that he would have saved her, but really it wasn't. Kit was a good man with a humongous heart. Jude may have only had six months, but she didn't die alone in Briarcliff. She had experienced the love of a family, being called Nana and dancing with Kit for real rather than only in her mind. When the Dark Angel came this time, she was ready to go with Kit by her side. 
Kit's life on earth was cut short, but he had the most to show for it. His heart was made for loving. He cared for his two children and was fortunate enough remarry again. His love and family not only healed Jude, but Lana too. His family became hers. Did the aliens target him because he was well-suited for love and forgiveness? Or did they give him those qualities? That will remain a mystery and live on through his two wonderful and successful children.
Lana was the last one standing.
Sister Jude: I do hope you know what you are in for. The loneliness, the heartbreak, the sacrifice you will face as a woman with a dream on her own.
Lana: You don't have any idea of what I'm capable of.
Sister Jude: Well, then, look at you, Ms. Lana Banana. Just remember if you look in the face of evil, evil's gonna look right back at you. | permalink
And, with that, the Asylum installment of the American Horror Story anthology came to a satisfying conclusion. Briarcliff tarnished the lives of everyone who entered its doors. While most died or were killed, a few persevered and had a happily ever after. 
Were you satisfied with the ending? Get the answers you were looking for? Glad that both Kit and Lana had happy endings?
Carla Day is a staff writer for TV Fanatic. Follow her on Twitter and on Google+.