American Horror Story Review: Is a Happy Ending Possible?

Carla Day at .
American Horror Story sure knows how to open an episode and grab the audience's attention.
Dylan McDermott (Johnny) was able to take what should have been a creepy moment and make it quite sensual, at least initially. Then, his rampage against his mother was filled with intense anger that I feared he would take out on Andorra. He was in Bloody Face's house after all.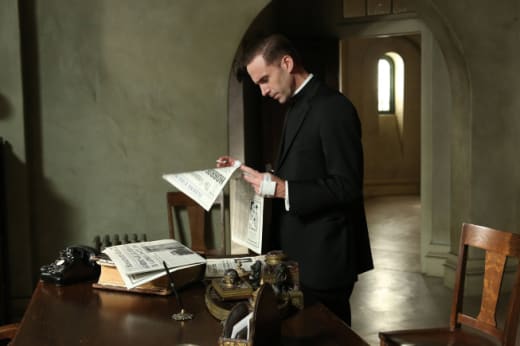 Regarding Johnny's parentage, when he was first revealed to be the Modern Day Bloody Face, I wasn't confident that he was Oliver and Lana's son. After "Spilt Milk," I'm even less convinced. With at least three babies in play, Johnny could be any of them... or even perhaps a baby unrelated to Briarcliff. 
Back at Briarcliff, a suave Kit walked into the common room to see his son and Grace again. After being locked up and in a straight jacket, he cleaned up quite nicely. Despite their troubles both prior to and at Briarcliff, they looked like such a delightful family.
The glow and smile on Grace's face gave hope that they would make it together. And then the glorious marriage proposal and hope that the Monsignor would perform the ceremony. On reflection, they were being naive, but I was just as caught up in the moment as they were and envisioned that possible future.
Instead, the Monsignor came to take the baby away to have Thomas adopted by another family. Heartbreaking. Could Thomas be Johnny? That was my first thought when he was taken away.
Then, Thredson offered Kit a trade: Thomas for the confession recording, only it wasn't Kit's to trade. Instead, Lana was released from Briarcliff and left giving Thredson the middle finger while showing him that she had the recording. 
That goodbye wasn't enough for Lana. She proved her strength by showing up at Thredson's home to confront him. She may not have gotten Wendy back, but she regained her self esteem and worth when she pulled the trigger and killed Bloody Face.
After all that Lana had been through, she impressed me with her decisions even more after Thredson was dead. She didn't hide from the spotlight, instead she continued on with her life. She honored Wendy, decided there had been enough killing and didn't abort her baby, and the biggest sign of her strength came after she gave birth. Her child needed her and despite the horrific nature of the conception, she fed and nurtured her young infant.
Was Johnny misinformed about his mother and her actions? Or is Johnny not Lana's son? It would be perfectly reasonable for an insane killer to create and believe his own lies about his upbringing. He wanted to be Bloody Face's son, so could he have created and lived in that fake reality?
Yes, this show is American Horror Story, but I'd still love to see some happiness come out of those tragedies. Why can't Lana and her child have a happy ending? Good derived from evil. While Lana, Kit, Grace and Jude all deserve happy endings, that seems highly unlikely.
With Thredson named as Bloody Face, Kit was released from Briarcliff and he negotiated to get Grace out and their son back. A happy ending in the making ... or is it? They arrived at Kit's home, walked joyously over the threshold to start their new lives together, and were greeted with a shocking visitor. Alma was sitting on the bed with child waiting for them.
What? Does this mean that Grace was lying about what happened to Alma? Or, did she just misunderstand? Kit seems to be in a bit of a sister wives situation now. He has two loves both with his child. Awkward!
What a turn of events. Sister Jude's patients have left Briarcliff, while she remains. The Monsignor faked her death and hid her away to protect himself, his indiscretions  and Briarcliff. Will she remain there until her last breath? Or, will she also find a way out? 
There are only two American Horror Story: Asylum episodes remaining. What do you want to see happen? Any happy endings? Who do you think Johnny is Lana and Oliver's son? If not, who is he?
Carla Day is a staff writer for TV Fanatic. Follow her on Twitter and on Google+.