The Big Bang Theory Review: By Thor's Hammer!

Carla Day at .
It's the Comic Con episode! Well, sorta.
In "The Bakersfield Expedition," the guys set out on a trip to the Bakersfield Comic Con, but they never actually made it there. What a tease! That's not to say it wasn't a good or funny - because it was both. I hope that at some point, The Big Bang Theory gang will actually attend a con, though.
Given the girls' sudden interest in Thor, perhaps they should join in that adventure.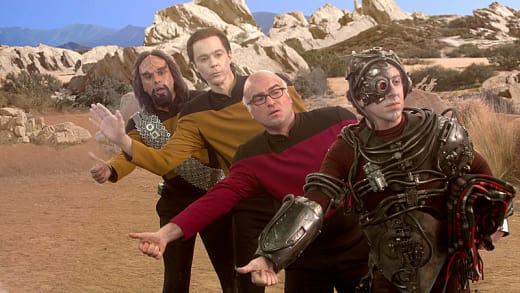 The two stories that split up the guys and the girls this episode worked well, especially when the former returned home to hear them arguing about Thor. Out of the two stories, I definitely laughed more during the girls' comic book squabble. While I enjoy Fables, I'm glad that they bought Thor just for the hilarious hammer argument. I've never read those comics, but I've seen the movie and never realized what an in depth conversation could be had about Thor and his hammer.
The real turning point of the argument and when it got serious was when Penny brought up Harry Potter's wand and Amy said, "I can't even take you seriously anymore." What the heck got into them? 
Just about every line the girls said in their argument was hilarious, but this bit was probably my favorite:
Bernadette: Well, what if Hulk picked up Thor while Thor is holding the hammer?
Amy: Yeah?
Bernadette: Then by the transitive property of picking things up Hulk picked up the hammer.
Amy: No. Hulk picked up Thor. Thor picked up the hammer.
Penny: Okay, hang on. If I go to a bar and pick up a guy and he picks up a girl and then we all leave together. Did I pick up the girl?
Amy: Did that ever happen?
Penny: Hey, are we talking about me or are we talking about Thor? | permalink
The Big Bang Theory doesn't often have continuity from episode to episode, but I hope that this conversation comes up again. Or at least that their new found interest in comic books is further explored. Maybe Amy should start a new Web series called Comics Cross Fire or Convoluted Comics with both Penny and Bernadette.
The male road trip was not without laughs either. Of course, Sheldon replaced the GPS device's voice with his own. He's Sheldon! The trivia was a nice added touch. And, yes, I answered, "Eisenhower" out loud to my TV screen. I have no shame in admitting that. It's something I've known since I was a child because I'm in Chicago and we have a highway named the Eisenhower in his honor. I was surprised that Sheldon just assumed no one would know that though.
The GPS bit may have gone on one joke too long, but the end with the car thieves made up for it. Instead of being annoyed by it and busting it off, the thieves unexpectedly were entertained by the trivia. 
The Next Generation costumes and makeup jobs were so realistic it bordered on freaky. Even though they didn't make it to Comic Con, they have great pictures in their costumes and from before Sheldon was slushied. Glee reference?
Even though I watched ST:TNG when it originally aired, the references to the show weren't my favorite part. Sometimes it's the stupid banter that gets me laughing the most.
Raj: Wool pants in the desert. I feel like I've got poached testicles.
Leonard: Oh, you poor thing, you're sweating. That is so much worse than having your car stolen.
Raj: Your insurance is going to buy you a new car. It's not gonna de-funk my junk. | permalink
Though, the cop assuming they needed their moms called and then Howard saying he talked to his mom provided a nice chuckle.
Overall, "The Bakersfield Expedition" was hilarious and one of my favorite episodes of the season. It's right up there with "The Re-Entry Minimization" and "The Parking Lot Escalation." 
For more of the LOL-worthy moments from the episode, check out our The Big Bang Theory quotes.
What was your favorite moment or line? Which story made you laugh more: the girls or the guys? 
Carla Day is a staff writer for TV Fanatic. Follow her on Twitter and on Google+.